Birr (Co. Offaly / West)
Birr (Biorra) (pop. 6000), according to Country Life magazine,  "epitomises the peculiar charm of a small Irish town at its best … a charm deriving not so much from the quality of the individual buildings as from the way in which they are put together." In addition to its carefully preserved  heritage of wide streets lined with attractive Georgian houses and Victorian edifices ranging from quaint to eccentic, with elegant fanlights and traditional wooden shopfronts, Birr has several good hotels, restaurants and pubs.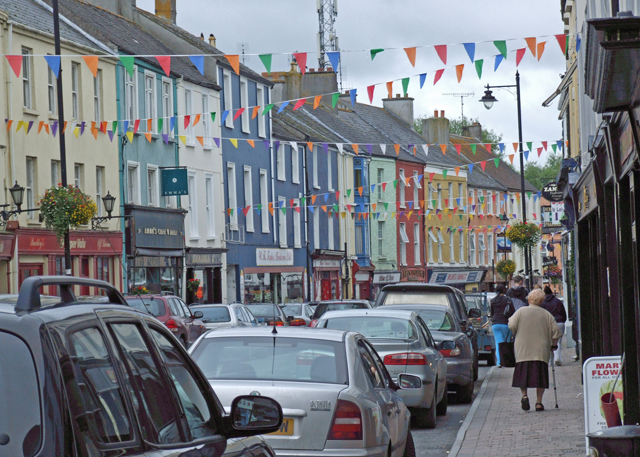 Main Street, Birr (Photo by Dennis Turner)
Supposedly situated at the exact centre of Ireland, Birr is embraced by the curving River Camcor just above the point where it combines with the Little Brosna to form the River Brosna, a tributary of the nearby River Shannon. First recorded as the site of  a monastic community founded in the C6th by St Brendan of Birr, the land was granted in 1620 to the Parsons family. They were largely responsible for the development of the town, long called Parsonstown and famed for its mills, distilleries, breweries – and sporadic religious tensions.
Birr Castle

Birr Castle, founded as an Anglo-Norman outpost in 1208, passed into the possession of the O'Carroll of Ely clan until c.1620, when it was acquired and rebuilt by Sir Laurence Parsons. The castle was twice besieged during the Wars of the Three Kingdoms, and one of the towers still shows the scars of the artillery of Patrick Sarsfield, who tried unsuccessfully to take it during the Williamite War.  The complex was largely demolished c.1778 and rebuilt in the early C19th. (Photo by Tpower)

Sir Richard Parsons, 3rd Bart, of New Ross, Co. Wexford, was created Viscount Rosse in 1681; in 1718 his son Richard, a leading Freemason, noted libertine and founder of the Hellfire Club, became Earl of Rosse, but the titles survived only one more generation. Cousin Laurence Harman Parsons, 5th Bart of Birr Castle, was made Viscount Oxmantown in 1785 and Earl of Rosse (2nd creation) in 1806, despite his strong opposition to the 1800 Act of Union. Currently the family home of Brendan Parsons, 7th Earl of Rosse, the Castle is rarely open to the public.

Birr Castle Gardens & Demesne are rated with five stars in the official list of Gardens of Outstanding Historic Interest in the Republic of Ireland, double-starred in the Good Gardens Guide, and have won various Bord Failte Awards. The beautiful formal gardens include the tallest box hedges in the world and over a thousand different species of trees and shrubs, scientifically numbered and catalogued; the wonderful landscaped park has rivers, waterfalls and a lake with swans, herons and kingfishers, not to mention the wild duck for which the demesne has been a sanctuary since time immemorial.

The Great Leviathan of Parsonstown, an astronomical telescope with a 72-inch metal mirror, erected in 1849 by William Parsons, 3rd Earl of Rosse, was the largest telescope in the world until 1917. With this instrument, Lord Rosse was able to study and record details of immensely distant stellar objects and to provide evidence that many of these mysterious nebulae were actually galaxies located far outside our own. (Photo by Miss Cantankerous)

Ireland's Historic Science Centre, housed in the restored stables of the castle, contains electrical and engineering equipment, astronomical instruments, cameras, photographs and photographic equipment used in the middle and late C19th by the 3rd Earl's wife Lady Mary Rosse, a pioneer in the field (and a skilled blacksmith to boot!) as well as a large area devoted to the botanical work carried out in the Demesne.

Sir Charles Algernon Parsons, the 3rd Earl's fourth son and a graduate of TCD, invented the steam turbine in 1884, and ten years later designed the Turbinia, a 110ft ship powered by steam turbine and twin screw propellers, which was easily the most rapid craft afloat at that time. She performed spectacular figures of eight around the Royal Navy's fastest  destroyers at Queen Victoria's fleet review off Spithead on the occasion of her Diamond Jubilee in 1897, convincing the Admiralty to employ the technology, now a worldwide standard. It is hoped to bring the vessel from Newcastle-upon-Tyne`s Discovery Museum  for display in Birr.

The castle, a centre of scientific life from the 1840s to 1914, fell into decline when the 5th Earl of Rosse was killed in action towards the end of WWI, leaving his 12-year-old successor to face the 1918 – 1923 Troubles and the changed political realities following Irish independence from the UK. The building was damaged by fire in 1919 and garrisoned by the Free State Army in 1922-23.  Unlike many of their peers, the Parsons family chose to remain in their ancestral home, and continue to play an important role in local life.

A Comprehensive Calendar of the Rosse Papers, an archive held in the Muniment Room of Birr Castle, was published with assistance from the Irish Manuscript Commission in 2008.
St Brendan's parish church, a pre-Reformation edifice, repaired in 1621 and now derelict, was marked on Sir William Petty's Down Survey as Umbilicus Hiberniae [the Navel of Ireland].  The square belfry tower was used as a defensive outpost of the castle in the sieges of 1643 and 1690. This site may well have been first occupied by Saint Brendan's monastery.
The old Market Square was long dominated by a Market House; the site is now occupied by a memorial to the Manchester Martyrs, in the form of a column supporting  a statue of the Maid of Erin with cross, harp and hound, unveiled by Jeremiah O'Donovan Rossa in 1894.
Emmet Square (formerly Duke / Cumberland Square), widely if somewhat inaccurately believed to be the exact centre of Ireland, is dominated by an imposing Doric column, erected in 1747 to carry a statue of the Duke of Cumberland, aka the Bloody Duke, victor of the Battle of Culloden (removed in 1915, as it was in danger of collapse).  (Photo by Ynys Éire) Turtle Bunbury's interesting article about the sinister Masonic reason(s) for the column's erection can be read here.
Laurence Parsons, 2nd Earl of Rosse, was primarily responsible for redesigning  and extending the layout of the town with spacious streets,  requiring new constructions to accord with the principles of classical architecture, a tradition maintained by his landlord descendants.
Oxmantown Mall, a virtual linear park stretching from the gothic entrance to the castle demesne, is lined by some of the town's finest houses, dating from the 1820s.
(Oxmanston Mall was the scene of the world's first fatal automobile accident in 1869, when pioneering scientist Mary Ward (née King), a cousin of Lord Rosse, was thrown from and perished under the wheels of a home-made experimental steam-powered vehicle driven by one of the Parsons boys).
John's Mall was developed over the period 1830 to 1880, and features a splendid bronze statue by JH Foley of the astronomer William Parsons, 3rd Earl of Rosse, erected in 1876. The leafy central plots are known locally as "the chains".
The Seefin Stone, a large boulder on John's Mall, is supposed to mark Ireland's bellybutton. Seefin is a common name for mountains all over Ireland, and according to some authorities means "Seat of Fionn", indicating a legendary meeting place of the Fianna. Birr's Seefin Stone was once stolen and taken to County Clare for Daniel O'Connell to stand on while addressing a Monster Rally. (The thief was "Honest" Tom Steele, whose own eponymous Rocks in Ennis are also said by some to be Seefin Stones).
John's Place, Wilmer Road, Compton Row, the Green and Townsend St are also architecturally noteworthy.
Oxmantown Bridge was erected in 1805 and adjusted in 1855.
St Brendan's parish church (CoI), completing the vista along Oxmantown Mall, was designed in 1815 by John Johnson and extended in 1876 by Sir Thomas Drew. It has a hundred-foot tower supported by unusual buttresses. Across the road, the former church hall (1836) now houses St Brendan's Market.
Birr's Methodist church on Emmet St, inaugurated in 1821 as the "Wesley Chapel", replaced an earlier place of worship on Chapel St, and is still in regular use. John Wesley himself was a a frequent visitor to Parsonstown.
St Brendan's parish church (RC), built in 1825 to replace a thatched chapel, was designed in a  beautiful Gothic style by Bernard Mullins, and is notable for  both the altar, designed by AW Pugin in 1842, and some spectacular stained glass windows.
Birr Courthouse, an austere buiding that was also used as a Bridewell gaol, dates from 1830.
John's Hall, an attractive Greek-style temple erected in 1833 in memory of John Clere Parsons (d.1828), is fronted by a cannon captured at the 1855 Siege of Sebastopol during the Crimean War and now houses the local tourist office.
The Crotty church on Castle St was constructed c.1836 by followers of Fr Michael Crotty and his cousin Fr William Crotty, responsible for the  C19th heresy known as the Crotty Schism. Arising from a dispute with the officially appointed Roman Catholic parish priest, the movement at one point had over 6000 adherents, but eventually petered out when Michael converted to Anglicanism and William joined the Presbyterian Church in 1842 . The building, later used as a notorious beer hall, is due to be restored when funds are found.
The Sisters of Mercy convent, designed by AW Pugin, was established in 1840 by the Order's founder, Catherine McAuley, in direct response to the Crotty Schism. It is now used by Offaly County Council as a Civic Centre, with a magnificent chapel converted into Birr Town Library.
The Book of Birr and Cáin Adomnáin

Birr Town Library displays the local Historical Society's facsimile copy of the Book of Birr, aka the Macregol Gospels, aka the Rushworth Gospels, a partially illuminated late C8th vellum manuscript copy of the Four Gospels written by Macregol, an abbot and bishop of Biorra who died in 821 AD.

The famous manuscript was presented in 1681 to the Bodleian Library, Oxford by John Rushworth (c.1612-1690), Clerk-Assistant to the Long Parliament, lawyer, politician and historian. How it arrived in England is unclear.

Its principal importance lies in the C10th interlinear gloss, the second oldest version of the Gospels in any form of the English language after the Lindisfarne Gospels, and thus extremely valuable to linguistic historians.

The following is the Lord's Prayer / 'Our Father' from Matt. 6:

Faeder ure, thu the in heofunum earth. Beo gehalgad thin noma. Cume to thin rice. Weorthe thin willa, swa swa on heofune, swilce on eorthe. Hlaf userne/ure dadgwaemlice/u/instondenlice sel us to daege. And forlete us ure scylde, swa swa we ec forleten thaem the scyldigat with us. And ne gelaet us gelaede in constungae. Ah gelese us of yfle.

Cáin Adomnáin, aka the Lex Innocentium / Law of Innocents, a significant Brehon Law prohibiting the killing of non-combatants in battle or the use of women in warfare and imposing penalties for rape and sexual harrassment, was promulgated by Abbot Adomnán of Iona at a Synod held at Biorra  in 697 AD, attended by powerful clerics and chieftains from all over Ireland and some parts of Scotland.

Birr Town Library  has  a modern manuscript copy by scribe Margaret Maher and a medieval bell made by Dan Edwards to commemorate the 1300th anniversary of the Law, celebrated by a conference in Birr in 1997. A wooden cross carved by Brother Anthony OSB for the same occasion can be seen in St Brendan's church (RC).
Parsonstown Union Workhouse, still virtually intact, is a good example of the early standard model designed by George Wilkinson. It opened in 1842, and during the Great Famine participated in a scheme to send surplus female orphans to Australia. Closed in 1920, it was occupied during the Civil War, and later used as a shoe factory.
Oxmantown Model School, a handsome building constructed in 1860, is now a co-educational National School under CoI patronage.
Birr's Masonic Hall was erected in 1875 (the Lodge was founded c.1747).
Birr's Presbyterian church, built in 1885 at a cost of 1,500 pounds, is now a public library.
Oxmantown Hall, designed in 1888 by Cassandra Parsons, Countess of Rosse, based on architectural styles she had seen in Germany, has since 2000 been the home of Birr Theatre & Arts Centre, hosting concerts, recitals, opera, dance performances, plays, puppet shows, a film club, and regular exhibitions af paintings, sculptures and photographs.
The Society of Friends' (Quakers') Meetinghouse on the Green is no longer used for its original purpose.
Birr also has a pleasant green park on Mill Island in the River Camcor, a delightful Riverside Walk and several other interesting monuments.
Birr Railway Station opened in 1858 andfinally closed in 1963.
Birr's "Lost" Railway Line

In 1868 a new 12-mile railway line linking Birr to Portumna was inaugurated, but by 1878 had proved a financial flop.

Several years later, technicians investigating the possibility of repairing and re-opening the route found that the tracks, sleepers, fittings and gates had all vanished mysteriously, leaving only a couple of immoveable bridges.

"The Stolen Railway Line" was written off at a substantial loss.
Birr GAA Club has an exceptionally strong hurling tradition, having won the All-Ireland Senior Club Championship four times, most recently in 2003; (indeed, the first ever All-Ireland hurling final was held locally in 1888).
Birr Airfield has been the home of the friendly and welcoming Ormond Flying Club since 1970.
Dooly's Hotel is one of the oldest coaching inns in Ireland, dating from 1747. The Galway Blazers adopted their name in 1809 after a rowdy hunt celebration in the hotel set the premises on fire. Centrally located on Emmet Square, it is still something of a party venue.
Spinner's Townhouse & Bistro has been created from a row of converted Georgian houses and an old mill, close to Birr Castle. The restaurant is well regarded, and the B&B facilities very reasonably priced.
The County Arms Hotel & Leisure Centre, a four star facility specialising in weddings and corporate dos, occupies a renovated Georgian hunting lodge on the former Moorpark estate.
The Maltings B&B on Castle St is a friendly family-run establishment in a converted Guinness malt store built in 1810.
The Stables Emporium, Tearooms & Guesthouse, a gracious townhouse complex on Oxmantown Mall, is a former restaurant now run by Caroline Boyd as a furniture shop, with  a lovely drawing room area set aside for light lunches, homemade cakes, snacks and teas, and pleasant accommodation facilities upstairs.
The Chestnut, a pleasant old pub founded in 1823, has been beautifully refurbished by Caroline Boyd's sister Clodagh Fay. It serves a superb pint of Guinness, and has a courtyard used for summer BBQs and a full moon market on the third Saturday of each month. There is also an attractive secret garden.
Whigsborough House, a handsome Georgian residence with a beautiful garden, is run as a highly rated restaurant.
The Birr Vintage Week & Arts Festival is held in mid-August every year, with a significant Antiques & Fine Arts Fair, live orchestral and traditional music, marching bands, buskers, clowns, street theatre, exhibitions of paintings and photographs, historical walks and a Sunday Parade of vintage cars, engines, floats, horses and carriages.
The former jazz & blues-oriented Birr Music Festival appears to have given way to Astral Plains, a boutique festival held in the grounds of Birr Castle at the end of June.
Birr was the birthplace of Fay Taylour (1904 – 1983), aka Flying Fay, the daughter of an RIC inspector who became a champion grass and speedway motorcyclist and international racing car driver before WWII, when she was interned in the UK as a fascist sympathiser.
Birr was for many years the place with the lowest recorded winter temperatures in Ireland, making its toponym peculiarly appropriate. The fact that the town shares its name with Ethiopia's national unit of currency is probably not significant ……. or is it?
Birr is
Crinkill (Co. Offaly / West)
Crinkill was the location of a large Barracks built in 1809, used by the British Army's Leinster Regiment until 1921, and destroyed by Republican forces in 1922 during the Civil War. All that remains is the perimeter wall.
Postcard of Crinkill Barracks
The Thatch, aka "Mother Walsh's", is a traditional old-fashioned pub run by the same family for over 200 years, with a good reputation for food and live music.
Crinkill is