Ballinamuck & Drumlish (Co. Longford / Northwest)
Ballinamuck (Béal Átha na Muc – "mouth of the pig's ford"), now a small village with a good pub, was still an almost unpopulated townland when it entered the history books in 1798.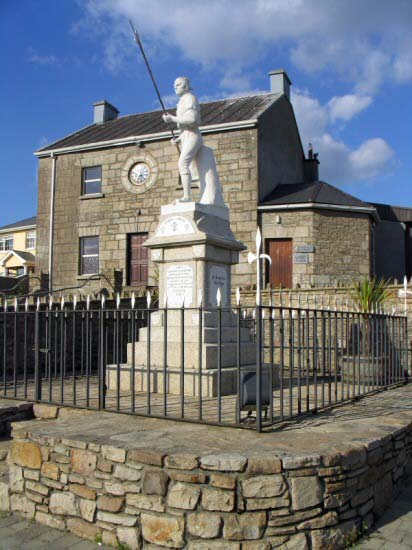 The '98 Memorial Hall was built in 1830 as a police fortress with two towers; it and surrounding constabulary barracks all stood on elevated sites so they could communicate with each other by means of waving a lantern if attacked. The towers were removed on conversion in 1948. The Pikeman statue dates from 1928. Since 1999 the Hall has housed the Ballinamuck Visitor Centre, featuring an exhibition with eyewitness accounts from local people and officers of the opposing armies together with explanations of the background and significance of the 1798 events.
The Battle of Ballinamuck 1798

The Battle of Ballinamuck saw the defeat of the main force of the shortlived French invasion of Ireland in support of the 1798 Rebellion.

General Humbert's arrival near Ballina with 2000 French troops on 22nd August 1798, and his victory over the Crown forces under General Lake at Castlebar five days later, had not led to a renewed outbreak of the Rebellion as hoped; despite gaining him some 5,000 local recruits, the defeat of the earlier revolt elsewhere in the country had devastated the United Irishmen and their supporters to the extent that few were willing or able to renew the struggle.

Abandoning Castlebar, Humbert moved towards Ulster with the apparent intention of igniting a rising there, but after defeating a blocking force of British troops at Collooney in Sligo he altered course following reports that rebellions had broken out in Westmeath and Longford. He crossed the River Shannon at Ballintra on 7th September.

Stopping that evening at Cloon,  halfway between his landing-point and Dublin, Humbert received news of the defeat of the Westmeath and Longford rebels at Wilsons Hospital and Granard from the trickle of rebels who had survived the slaughter and reached his camp.

Humbert knew that General Lake was close behind with 14,000 men, while the new British commander Lord Cornwallis was blocking the road to Dublin with 15,000 troops steadily moving towards him. Faced with overwhelming numbers, he decided to make a stand the next day.

On the morning of the 8th September, General Humbert and his army of 800 French and 1,500 Irish reached Ballinamuck. An advance guard of General Lake's under the command of Colonel Crawford  made contact at Kiltycreevagh with the French rear guard under Sarrazin, whose 200 men immediately lay down their arms. Meanwhile Humbert was making ready for battle on Shanmullagh Hill with 400 French soldiers and  a large number of Irish insurgents, while he remainder were posted along the road with the French Grenadiers under Captain Jobit.

The battle began with a short artillery duel followed by a dragoon charge on exposed Irish rebels.  Lake attacked Humbert's position on the hill several times, but was initially driven back by pikemen.There was a brief struggle when French lines were reached which only ceased when Humbert signalled his intention to surrender and his officers ordered their men to lay down their muskets. This conventional battle lasted little more than half an hour.  Humbert surrendered with all the French without making any terms for the Irish.

The surrender at Ballinamuck by French military artist Henry Louis Dupray (1841-1909).

While the French surrender was being taken the 1,000 or so Irish allies under Colonel Teeling, an Irish officer in the French army, held onto their arms without signalling the intention to surrender or being offered terms. An attack by infantry followed by a dragoon charge broke and scattered the Irish who were ruthlessly slain. General George Blake and Gunner Magee (after whom Dublin's Magee Barracks was later named) made a heroic stand at Gaigue, inflicting considerable damage on the enemy, only to be taken and hanged from the shafts of a cart on the spot, while the remaining rebels were pursued into the bogs and slaughtered without mercy.

British losses were initially reported as 3 killed and 16 wounded or missing, but the number of killed alone was later reported as 12. Exactly 96 French officers and 748 men were taken prisoner,  transported with General Humbert by canal to Dublin and repatriated. Approximately 500 Irish lay dead on the field. Some 200 prisoners were taken in the mopping up operations, almost all of whom were later hanged in St Johnstown, today's Ballinalee, including Wolfe Tone's brother Matthew Tone.

The British army then slowly spread out into the rebel held "Republic of Connaught" in a brutal campaign of killing and house burning which reached its climax on 23 September when Killala was stormed and retaken with much slaughter. Many suspected insurgents, including Fr Andrew Conroy who led French and Irish forces to Castlebar though the Windy Gap, were hunted down and hanged.

The catastrophe at Ballinamuck left a strong imprint on social memory and featured strongly in local folklore. Numerous oral traditions were later collected about this episode, principally in the 1930s by the historian Richard Hayes and by the Irish Folklore Commission.
Memorials marking key sites of the battle are nowadays linked by several attractive walking routes around the village.
St Patrick's church (RC) stands on the site of an old thatched chapel erected c. 1834, heroically defended by its curate, Fr Moran, against demolition two years later, when Lord Lorton had all the local families evicted and their homes levelled to the ground. This was replaced by a larger edifice  c.1865, which in turn gave way to the current building, constructed 1956-1961.
Shanmullagh Bog is a good example of a small Raised Bog, 3-4m in depth.
Ballinamuck is
Melkagh is the location of several Standing Stones, said to have been erected c.2500 BC as memorials to the dead, and 'Dermot & Grania's Bed', a portal tomb in poor condition.
The Ballinamuck / Drumlish area received a large influx of refugees fleeing religious persecution in Ulster in the late C18th, and soon suffered agrarian unrest accompanied by sectarian shootings and reprisals.
Creaghlaghta 

Creaghlaghta (from Crith-Leachta – "abounding in slabs /  monuments") formed part of the estates of General Robert Edward King, 1st Viscount Lorton of Boyle (1773-1854), second son of the 2nd Earl of Kingston (with whom he had notoriously been acquitted in 1798 of murdering his illegitimate maternal half-uncle Col. Henry Gerald FitzGerald, for seducing his sister).

In the 1830s he began evicting his poorest Roman Catholic tenants and leasing large sections of land to Protestants from elsewhere in Ireland and abroad, leading to serious unrest and sectarian violence.

The first murder took place in 1835, when Peter Harte, who had been ostracized for voting Tory, was killed at Ballinamuck. John Brock, the first Protestant put into the estate by Lord Lorton at Creaghlaghta was murdered soon afterwards. Arthur Cathcart who lived in Fardromin was attacked on a number of occasions and finally shot near his own house. William Morrisson was appointed Baliff after Cathcart's death, but he was choked in Ginty's pub in Drumlish. Hugh Moorhead was choked beside a clamp of turf on the bog, later, Michael Kenny was hanged for Moorhead's murder.

The village's 40 houses were burnt down in April 1839, at the request of Lord Lorton. He admitted afterwards that the burning was promoted by his anger at the savage barbarism on his estate.

William Henry Moorhead (1882–1962), born in Creealaughta, became the 4th Anglican bishop of Fredericton in New Brunswick, Canada in 1936.
During the War of Independence, the IRA's North Longford flying column led by Sean MacEoin attacked the RIC barracks in Drumlish on 6th January 1920, and the barracks in Ballinamuck on a later date. On 19th June 1921, only three weeks before the truce that ended the war, Tommy Kelleher shot an Auxiliary in Drumlish and was gunned down by ten colleagues; he is commemorated by a Celtic Cross known as the Kelleher Monument.
Drumlish (Droim Lios –  "Ford on the ridge") (pop. 430) is a village and rural community with several decent pubs.
A peat farmer parks his load outside a pub in Drumlish. (Photo – Sheila Lennon)
St Mary's church (RC), completed in 1907 to replace the old church in the nearby hillside graveyard, serves the extensive rural parish of Drumlish, which formed part of the parish of Killoe until the middle of the C18th, when it became known as the parish of Monaduff, due to the location of the church at the time, and changed to its current name in 1822.
The Land War saw a major confrontation on the 12th January 1881 when, after some 300 families had already been evicted within a radius of three miles, Lord Granard's bailiff arrived in Drumlish together with the process-server to serve ejectment notices on a number of tenants who were unable to pay their rents.  Local Land League activists rang church bells to summon a large crowd  to meet the official party with aggressive demonstrations. Escorted by police from the local RIC barracks, the Earl's men arrived at the home of Thomas Rogers in Derawley to serve the first process only to find every field around the house packed with hostile men and women armed with guns, scythes, reaping hooks and pitchforks. The potentially ugly situation was diffused by the brave intervention and  restraining presence of Fr Tom Conerfry. But the authorities returned with greater force on the 13th and 14th before finally abandoning their attempts. The tenants were eventually allowed to pay reduced rents.
The Land War Monument, designed by John Carthy and Mattie Casey, was unveiled in 1981 to commemorates the local people who took part in the events of a century earlier. The symbolic 1881 cabin and 1981 house mark the dramatic change in living standards that has accompanied the transition from tenancy to pride of ownership.
The Old Corn Mill, on the village outskirts has recently been restored. Owned by the Rogers family for nearly two centuries, it processed oats during the Great Famine, helping Drumlish to suffer less than other areas, and was still flourishing up to the 1950s.
Kilmahon Graveyard, an ancient burial ground, contains faint traces of an early church or 'ceall' – the cell of a hermit, believed to have been occupied in the C6th AD by Saint Muadan / Mahon, who in fact did not live alone, but actually had a large contingent of loyal followers. Saint Colmcille is said to have dropped in unannounced on his way to Iona in 563 AD,  and on being handed a leaking pot and pork with a fishy taste, complained that the place was fit only for wild beasts, not clerics.
Corn Hill

Corn Hill / Cairn Hill / Carn Clonhugh (Carn Clainne Aodha / Sliabh Cairbré), (270m / 916 ft), the highest summit in County Longford, stands southeast of  Drumlish.

Although there are several accounts of at least two ancient cairns /dolmens / passage graves on the hill (one reputed to be the burial place of Queen Maeve's nephew and murderer Furbaide Ferbend, who killed her as she was bathing in Lough Ree's with a slingshot from the shore a mile away), their exact positions are no longer obvious, apart from an uninspiring pair of moss covered mounds, and locals prefer the rye-based toponym. (Photo by Archaeomoonwalker)

Today the hill is topped by the new 100m RTE midlands transmitter mast, replacing one erected in 1977. While the planting of conifers on the hillside has ruined the once spectacular view from the summit, magnificent vistas are still available from the southern and southeastern slopes.
Cloonaugh (Cluain Each – "The Meadow of the Steeds") is the location of a large flagstone carved with many as yet undeciphered symbols.
 Cloonaugh is not far from Newtownforbes on ByRoute 16.