Victoria's Way, Ireland's largest and most spectacular Sculpture Park, contains major black granite sculptures of the Hindu elephant god Ganesh plating various instruments in a musical band, and statues ranging from beautiful to grotesque of other eastern deities, the Buddha and key moments in life, placed at appropriate intervals along a middy meditation path / philosophical maze through a young forest dotted with ponds surrounded by bog. The park is owned and run by Victor Langfeld (b. 1940 in Berlin), a widely travelled Orientalist who claims to have personally experienced the Four Noble Truths of Perfection, and is a most interesting conversationalist.
Victoria's Way is close to the R755 road linking Roundwood with Calary on ByRoute2.
Vartry Reservoir

Vartry Reservoir, aka Roundwood Lakes, comprises two linked bodies of water surrounded by scenic woodlands. The Reservoir was a great achievement by the mid-C19th Dublin Water Works Committee chaired by Dr John Gray, and was particularly important in the improvement of living conditions and public health in Dublin City.

Created by the partial redirection and damming of the Vartry River, the Lower Reservoir was inaugurated in 1863, with a capacity of 11.3 billion litres and a maximum depth of 18.3m. The Upper Reservoir, created by building a second embankment 3.5 km upstream, was completed in 1923, with a capacity of 5.6 billion litres and a maximum depth of 13.4m.

A late-C19th picnic excursion to the reservoir by the Lord Mayor, Aldermen, Burgesses and servants of Dublin Corporation was so extravagant that it gave rise to a hilarious judgment by Sir Peter "the Packer" O'Brien LCJ (1842-1914) in R (Bridgeman) v. Drury(1894) 2 IR 489: "(Counsel) asked …. whether the members of the Corporation should starve; he drew a most gruesome picture; he represented that the members of the Corporation would really traverse the Wicklow hills in a spectral condition, unless they were sustained by lunch. I do not know, whether he went so far as Ayala, Marcobrunn, Château Margaux, old Dublin whiskey, and cigars. In answer …… we do not say that the members of the Corporation are not to lunch. But we do say that they are not to do so at the expense of the citizens of Dublin." This constituted an  important judicial precedent limiting public spending.

A pleasant stroll can be enjoyed across the castellated dam of the Upper Reservoir, while a more energetic trek can be had following the 7km Sli na Slainte trail around the two lakes.

Nearby Vartry Lodge, built c.1865 in an eclectic mix of Tudor and Venetian Gothic styles, is thought to have been intended as a residence for the manager of the Reservoir.
Roundwood (Co. Wicklow / Central)
Roundwood (An Tochar – "the causeway" / "the level place") (pop. 550), situated on a plateau 238m above sea level, has long claimed to be the highest village in Ireland (and also to have the highest golf course in the country). Although historically and still an agricultural market hub, Roundwood's main stream of income is nowadays provided by tourists and day-trippers.
Roundwood's attractive long single street is lined with buildings dating mainly from the late C19th, with several good pubs / eateries, very popular with hill walkers on the Wicklow Way.
The Roundwood Inn is a very pleasant late C17th coaching tavern with open log fireplaces. The cosy pub has long wooden tables where owners Jurgen and Aine Schwalm and their friendly staff serve exceptionally good Hiberno-Continental food, ranging from oysters and smoked fish to hearty soups and stews, while head chef Paul Taube uses the more formal / elegant restaurant to produce gastronomic delights such as wiener schnitzel, roast venison, goose or suckling pig, and game in season.
The Coach House across the road is Roundwood's liveliest bar, with regular performances by traditional and contemporary musicians and facilities for parties and functions. Formerly known as "The Royal Coach House", it also serves good pub food and has luxury B&B accommodation facilities.
Tochar House, owned by Patrick and Annette Fanning, is Roundwood's oldest pub. In addition to a friendly bar and lounge, it has reasonably priced B&B accommodation facilities.
Sally's Bistro is an attractive and welcoming mid-range restaurant.
St Laurence's church (RC), designed by JJ McCarthy and inaugurated by Cardinal Cullen in 1871,  was badly damaged by a storm in 1903. Situated at the top of the village, this church claims to be one of the highest in Ireland.  The acoustics are good and the sizeable choir balcony is equipped with an organ. There is a small grotto outside.
The Parish Hall is the venue for regular community events such as dances, concerts, bingo sessions, classes and workshops etc,. plus a Country Market on Sunday afternoons.
"General" Joseph Holt (1756 – 1826), commemorated by a Memorial erected in 1998, was (like Sam McAlister) a local Protestant who joined the United Irishmen and played a leading roe in the 1798 Rebellion. Holt and Michael Dwyer (separately) tied down thousands of British troops for months after the uprising had been crushed elsewhere, successfully negotiated surrenders (separately) and were exiled to New South Wales. Holt was eventually pardoned (by Governor Bligh, former Captain of the Bounty), and while returning to Ireland in 1812 was shipwrecked in the Falkland islands. He died in Kingstown, regretting that he had left Australia.
Another famous local was Sean T O'Kelly (1882 – 1966), President of Ireland from 1945 to 1959, whose residence, Roundwood Park, is an eccentric C19th castellated country house set in extensive landscaped grounds.
Roundwood is linked to Newtownmountkennedy and Ashford on ByRoute 2 by the R765 and R764 respectively.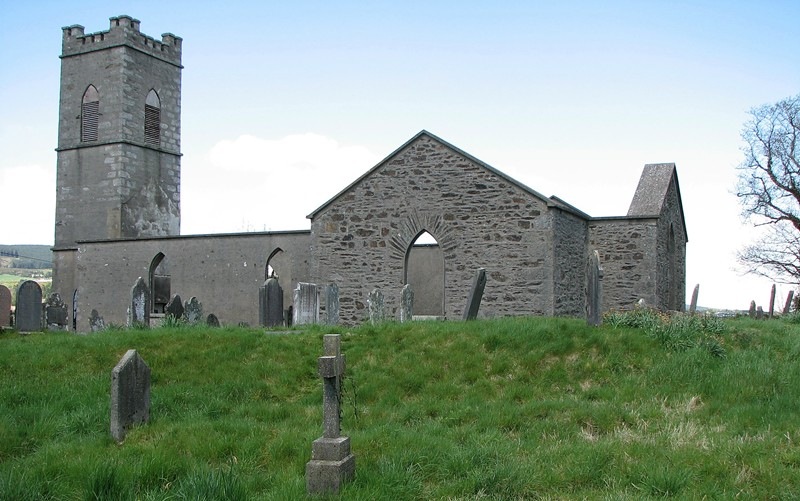 Derralossary parish church (CoI), a lonely isolated ruin overlooking the Avonmore River, is the burial place of Erskine Hamilton Childers (1905 – 1974), who was elected President of Ireland in 1973 but  died in office the following year.
Annamoe Bridge, a 3-arched stone structure erected across the  Avonmore River in the early C18th, was swept away in 1989 by Hurricane Charlie, and was subsequently rebuilt with four arches. Visitors often stop on the bridge to view the beautiful scenery.
Annamoe (Co. Wicklow / Central)
Annamoe, a very pretty hamlet beside the lovely Avonmore River, is remarkable for having no church or pub.
Annamoe Trout Fishery has a well-stocked artificial four-acre fly-fishing  lake and a special pond for children.
Rose's Tea House serves delicious scones with homemade rasberry jam.
Glendalough House

 

Glendalough House, a neo-Tudor pile designed by Daniel Robertson, was the family home of both Richard Childers Barton (1881 – 1975) and his cousin Robert Erskine Childers (1870 – 1922), who was arrested here before being court-martialled and sentenced to death by the Irish Free State government during the Civil War.

 

Before his execution, in a spirit of reconciliation, the older Childers obtained a promise from his 16-year-old son Erskine, the future President of Ireland, to seek out and shake the hand of every man who had signed the death warrant.

 

The private 1,500-acre property is nowadays rented out as luxury accommodation to visiting celebrities.
Where the River Flows, a memoir by Vera Pettigrew, recounts what life was like in the old Church of Ireland Rectory in Annamoe in the 1950s.
Annamoe is linked by a scenic road to Ashford on ByRoute 2.
Trooperstown Wood is a good place for a stroll on the banks of the Avonmore River, crossed here by stepping stones.
Trooperstown Hill (430m) is an easy ascent taking in two intriguing cairns. From the summit there are magnificent views of nearly all the surrounding Wicklow Mountains and across the Irish Sea to the peaks of Snowdonia in Wales.
Trooperstown Wood Lodge B&B is a large modern house set in landscaped grounds with lovely vistas.
Laragh Castle was originally an early C19th barracks built for the soldiers working on the construction of the old Military Road. It was the home of  Maude Gonne's first child / Sean McBride's sister Iseult Gonne and her husband, the controversial writer Francis Stuart, until it was bought by the O'Kelly family in 1961. The house was severely damaged in a fire in 2011.
Laragh (Co. Wicklow / Central)
Laragh lies at the junction of the old Military Road through Glenmacnass and the Wicklow Gap road overlooking Glendalough. Although surrounded by beautiful wooded hillsides, the village is too touristy for our liking, regularly crowded with coach parties, day-trippers, backpackers, bikers and screaming children
St Kevin's parish church (RC), constructed c.1850, has several beautiful stained glass windows.
St John's church (CoI), built with public subscriptions (including a munificent 15 pounds from the Dowager Queen Adelaide) as a Chapel of Ease in the now defunct parish of Derralossary and dedicated in 1867, is a pretty edifice in an attractive woodland setting.
Lynham's of Laragh, formerly Jake's Bar (est. 1776) until taken over by the Lynham family some 30 years ago, has grown into a friendly and efficient hotel & pub with  a lounge hosting regular live music sessions and serving hearty pub grub, a Bar & Grill, a café serving sandwiches, cakes and afternoon teas, and bedrooms overlooking the River Avonmore. (Photo by toniv)
The Woollen Mills, housed in a fine old farm complex just east of Laragh, is a good place for buying artisan clothing and crafts, while its carpark is the starting point for a walk through pretty mixed Coillte woodlands overlooking the ruins of  St Savior's Monastery and the Lower Lake in Glendalough.