Brannockstown & Harristown (Co. Kildare / East)
Brannockstown is a prosperous rural community, for the most part discreetly inhabited by successful DUBLIN-based commuters and retired folk. Brannockstown Polo Club is popular.
Brannockstown Baptist church was erected in 1882 with funds from John La Touche, an admirer of Charles Haddon Spurgeon, the influential Victorian English "Prince of Preachers" after whom a leading London theological institute is named. (Photo by Redalicat)
Medieval Brannockstown belonged to the Ballycotelan branch of the Eustace family until Christopher Eustace was executed in 1537 for participating in Silken Thomas's rebellion. His forfeited estates were granted to other members of the family: Brannockstown was acquired in 1547 by Maurice Eustace of Castlemartin, whose descendants retained the land until dispossessed by King James II.
An old graveyard marks the site of the former chapel of St Sylvester.
Harristown House & Gardens

Harristown House, overlooking the River Liffey, was originally built in 1740 by Whitmore Davis for the La Touche family, who remained in residence for 180 years. The mansion was severely damaged by fire in 1891, when many fine works of art were destroyed, and rebuilt in reduced form by James Franklin Fuller.

The property was acquired in 1946 by Major Michael Wentworth Beaumont MH (1903 – 1958), a deeply Conservative politician (and father of Timothy, the Rev. Lord Beaumont of Whitley, a controversial clergyman and later Liberal / Green Life Peer and euthanasia campaigner who died in April 2008). The Major restored the beautiful Walled Gardens and created the Cottage Walk.

(The Major also imported from his former English residence, Wotton House in Surrey, the now famous Chinese House / House of Confucius pavilion (1738), since repatriated to its original location at Stowe in Buckinghamshire).

Important features of the mansion include an impressive library, furniture of French and Italian origin, family portraits, carved chimneypieces, inlaid floors, mahogany doors and Chinese wall paper. Guided tours are available.
Harristown Castle, now a ruin, was the medieval stronghold of the powerful branch of the Eustace family ennobled by King Henry VIII as Viscounts of Baltinglass.
Brannockstown & Harristown are quite near Kilcullen on ByRoute 7.
The Norragh

This part of County Kildare has long been known as the Norragh. It is mentioned in two undated medieval deeds: one is a grant to Thomas Becket, Archbishop of Canterbury (killed in December 1170), of tithes, ecclesiastical rights and forest rights of "the Norrath"; and the other is a grant to the Cistercian Abbey of St. Mary's of Dublin of "five carucates of land" in the "tenemento de Norrac Patric".

The Barony of Norragh was granted by Strongbow to Robert FitzRichard St. Michael. Peter de Norrach, probably a member of the St. Michael family, was baron in 1220. In 1313 the barony was held of John de Hastynges by William de Norragh. After 1365 the barony was held of the Earls of Kildare.

The le Veele /Calf dynasty, commemorated in the name of Calverstown, had a major impact on the area. A document dated 1212 refers to 'Terra Philippi Vituli' (i.e. Philip of Calfs' land). Walter le Veele of Calfstown, Chancellor of Kildare Cathedral, was made Bishop of Kildare in 1299. He purchased the Manor of Norragh from Geoffrey de Norragh before his death in 1332. The Barony was inherited by his nephew John Calf, who passed it to his son Sir Robert Calf (d.1374).

The latter's only child was Elizabeth Calf, whose second marriage to Art MacMurrough Kavanagh in 1390 gave the Leinster chieftain control of the area (and, briefly, title)  until he forfeited it to the Crown in 1397.

The Norragh was very briefly held by Richard FitzAlan, 10th Earl of Surrey / 11th Earl of Arundel, who lost his head shortly before King Richard II lost his throne. Early in the reign of  King Henry IV the barony was granted to Janico Dartes, with lands held in custody by Sir Edward FitzEustace.




Elizabeth Calf's heir was her only child by her earlier marriage to Sir John Staunton of Otymy, a daughter who married William Wesley / Wellesley of Baronsrath; their claim to the Norragh bore fruit in 1465, and their descendants held the land for almost two hundred years. In 1660 it was encumbered and then acquired by the Keatings, who sold it to Robert la Touche in 1813.

Although the Wellesleys had long lost all claim to the land, Richard Wellesley, 2nd Earl of Morninton, Governor General of India and elder brother of the future 1st Duke of Wellington, requested and was granted the title 1st Marquess of Noragh in 1799. The title vecame extinct upon his death in 1842.
Calverstown & Narraghmore (Co. Kildare / East)
Calverstown (Baile an Chalbhaigh) (pop. 700) is a prosperous growing community with a number of attractive old buildings. A map from 1752 shows a layout very similar to that of today. A well maintained green at the centre of the village is provided with some seating beside a pretty stream.
Blackhall Castle, built by the Eustace family in the early C13th, was one of 'two castles prostrate" in Calverstown, forfeited to the Crown after the 3rd Viscount Baltinglass' rebellion of 1580, but the lands were re-granted to John Eustace of Castlemartin, held by Sir Robert Dixon in 1641, and passed to Sir Richard Wesley / Wellesley of Noragh. The castle ruin was noted for an interesting Sheela-na-Gig; the relevant section of wall was badly damaged in a storm in 1999, but the figure survived, and the castle's current owners plan to return it to its habitual place as part of an ongoing restoration project.
In 1956 the population of several townlands near Swinford, Co. Mayo, was resettled on Land Commission property at Blackhall.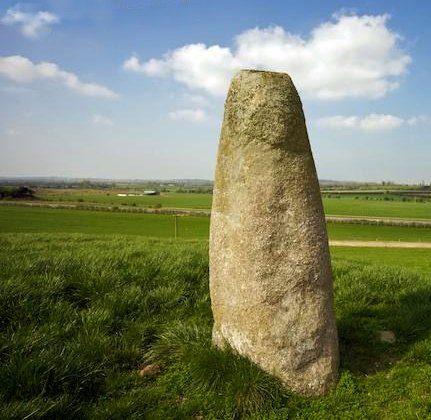 Kilgowan Standing Stone, a distinctly phallic granite monolith over seven feet high, is unusual in that it has a small cross with slightly expanded terminals cut on one face. Excavations have unearthed burials of the Iron Age and early Christian periods.  (Photo – www.beyond-the-pale.org.uk)
Narraghmore (An Fhorrach Mór) and neighbouring Fontstown saw important fighting during the 1798 Rebellion. On the morning of 24th May, nine loyalists under Yeomanry sergeant John Jefferies repulsed a rebel attack on Narraghmore courthouse that lasted two hours. Afraid that their position was untenable, the loyalists proceeded to Jefferies' home but were driven out when the rebels set the house on fire, killing three and taking the rest prisoner. Jefferies was lodged in Ballitore but escaped to Athy. Meanwhile, a detachment of troops routed a party of rebels in the woods, only to be attacked by around 3,000 more; seven soldiers and about 200 insurgents were killed. In the early hours of the morning of Sunday 27th May, soldiers destroyed the mansion of Colonel Keating, a liberal suspected to complicity with the United Irishmen.
Castlefarm Shop, owned by Peter and Jenny Young, is a great place to buy fresh organic produce, homebaked bread and cakes, farmhouse cheese etc. while watching cows being milked and chickens being fed. The large organic dairy farm is open to visitors, and regularly hosts food tastings, crafts markets etc.
Narraghmore is not far from Dunlavin (Co. Wicklow) on ByRoute 5.
Crookanavin (Caraig an Abhainn – the Rock of the Mass) was where outlawed Roman Catholic priests celebrated Mass illegally for the local faithful during Penal times.