These pages cover Bray,  Bray Head, Kilruddery & Windgates, Old Conna, Fassaroe & Kilcroney, Kilmacanogue and Enniskerry, plus places of interest in their immediate environs.
Bray (Co. Wicklow / Northeast)
Bray viewed from Bray Head. (Photo by Tournesol)
Bray (Bré, formerly Brí Chulainn) (pop.30,000), (DART, Dublin Bus 45, 45A, 84, 145, 184, 185), the self-styled "Gateway to Wicklow", is a Victorian seaside resort that has become a suburb of DUBLIN. It straddles the border between the two counties, once but no longer traced by the River Dargle that divides the town. Bray's scenic setting is dominated by Bray Head and the two Sugarloaf hills. (Photo – www.irishtourist.com).
Bray History




Strongbow granted these lands in 1173 to Walter de Ridelesford, who in 1213 received a charter from King John to hold a weekly fair. His castle, of which nothing remains, was the first of four built to guard the approaches to the only practicable ford across the river for miles, of great strategic importance for many years in the defence of Dublin.

The district north of the River Dargle, part of the medieval Old Connaught and Corke Farm man0rs on the edge of the Pale, came to be known as Little Bray and Bray Commons, while the settlement that grew up on the slopes south of the river was long called Much Bray and is still popularly referred to as Big Bray. Records show that by 1615 a lot of people of English descent lived in the main town, while their humbler Irish employees lived nearer the river.

On the day after the Battle of the Boyne in 1690, King James I arrived in Bray early in the morning and, learning that he was closely pursued, posted a strong force at the bridge, with instructions to oppose the passage of the pursuers, while he and his retinue made their escape through the Wicklow Mountains. A skirmish is said to have taken place, but appears to have amounted to little.

In the early C19th, according to Weston St. John Joyce, there were only two habitations along the sea front, one "a mud hovel, so diminutive, so wretched and so miserable as to earn for it the local soubriquet of 'The Rat Hole', tenanted by an eccentric, solitary, tar-begrimed old fisherman, who took a delight in surrounding his unattractive abode with ill-smelling heaps of manure, offal, seaweed and every other abomination that came within his reach, until at last it became difficult to distinguish between the dwelling and these strange accessories.

"In the other cottage near the Head lived an elderly woman and her daughter, whose ostensible means of livelihood were seeking and selling the pebbles peculiar to the locality, known as Wicklow pebbles, but who really were engaged in the profitable business of smuggling, and, in conjunction with others, acted as agents for the various overseas craft that then frequented this coast for the contraband trade. The mother was a woman of great courage and strength of character, and always went about armed; she was known to have amassed a considerable fortune by her operations, and was, at least on one occasion, engaged in an affray with the Preventive men. When she died many years afterwards, her daughter found herself a rich woman." Most of the smugglers' activities were centred on Bray Head.

The extension of the Dublin & Kingstown Railway to Bray in 1851 transformed the hamlet into Ireland's version of Brighton or Margate, attracting holidaymakers from all over the British Isles.

The River Dargle flooded its banks in 1905, 1931, 1965, 1986 and 2009, causing serious damage.
Little Bray, just north of the River Dargle, is the location of the battlefield where in 1402 a citizens' army led by the Mayor of Dublin, John Drake, inflicted a major defeat on the ferocious Gaelic O'Byrne and O'Toole clans. Long known as Bloodybank until "sanitised" by Victorian local authorities as Sunnybank, the site is adjacent to the junction of the old Dublin Road / Castle St. and the Lower Dargle Road leading to Fassaroe and Kilcroney.
Ravenswell, C19th home of the explorer, travel writer and artist Isaac Weld (1774-1856), was for over a century run by the Sisters of Charity as a convent school and is now St Philomena's National School.
Bray Bridge, first erected in 1666, collapsed in a storm in 1741 and was subsequently rebuilt. The present structure was designed by David Edge in 1856.
The People's Park, laid out south of the River Dargle on the late C19th by the local landlord, William Brabazon, 11th Earl of Meath, has been restored and improved to include flood defences.
St. Paul's church, founded in 1609 on the site of  a pre-Norman oratory south of the River Dargle, was altered several times, notably in 1912. According to a 1615 Church of Ireland "regal visitation", the Vicar of Bray conducted services using a version of the Book of Common Prayer printed in Irish, indicating that the Gaelic tongue was in general use at the time in these parts, irrespective of religion or origin. Closed as an Anglican place of worship in 1973, it was used for a time as an organ factory and reopened recently as The Well by / for a congregation of born-again Christians, with services involving live music, gospel singing, Bible reading and tea.
Bray Heritage Centre & Museum is housed in the former Courthouse (1844)  on Lower Main St, next to the Royal Hotel & Merrill Leisure Centre, formerly known as the Royal Starlight, originally opened in 1776 as the Meath Arms.
In the early C19th, according to Weston St. John Joyce, the route from Bray Bridge towards the beach was the old road beside the river (now Seapoint Road), and the present Quinnsboro Road was a pathway through fields, while Quin's Hotel possessed a splendid garden extending the whole way down to the sea.
Bray harbour, at the mouth of the River Dargle, is an idiosyncratic walled tidal basin where moored vessels spend parts of every day resting on mud. Long home to the local sailing club, it is now an official nature reserve for its resident colony of mute swans, geese, herons, cormorants and gulls. (Photo by Raymond Okonski)
The Harbour Bar, dating from the early C19th and owned by generations of the O'Toole family, is believed to have been used in more films than any other licensed premises in Ireland, and could well be the prototype for "Irish pubs" all over the world. The delightfully eccentric bar is filled with curios, including a moose's head presented by actor Peter O'Toole.
Bray's Martello Tower (the only one remaining of three built in the vicinity c.1810) was once the private residence of rock band U2's frontman Bono.
No. 1 Martello Terrace, at the northern end of Strand Rd, was home to James Joyce from 1887 to 1891, and is believed to be where  the original Christmas Dinner scene described in Portait of the Artist took place.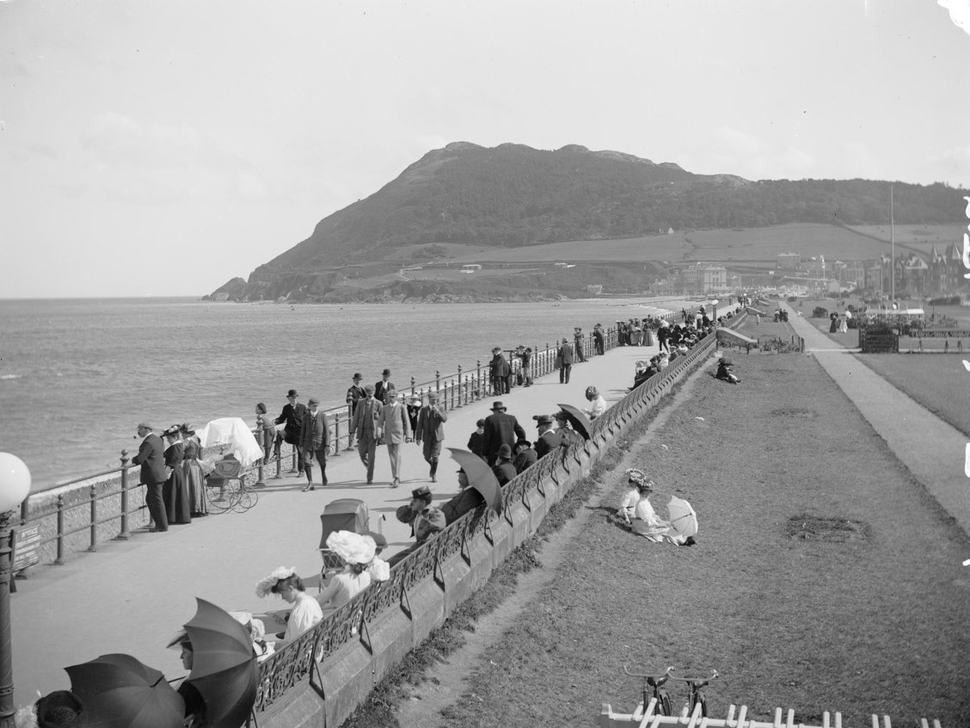 The Victorian seafront esplanade, laid out by Willam Dargan in 1861, stretches along the full mile-long length of the pebble beach (totally eroded and replaced regularly); it is ideal for a stroll, as is easily-accessible Bray Head. (Photo – Lawrence Collection: 1880 – 1914)
The promenade is lined with hotels, guest houses, B&Bs, pubs, eateries, amusement complexes and private residences, many of architectural and / or historical interest.
The Irish Sealife Centre (formerly the National Aquarium), featuring over 100 species of fish, mollusc etc., is worth a visit.
Esplanade Terrace, between Victoria Avenue and Convent Avenue, was the scene of some excitement in 1835, when workmen uncovered what was believed to be a Roman burial site.
The Esplanade Hotel (1897)
The Strand Hotel, originally called Elsinore, was built by Sir William Wilde as an investment; his famous literary son Oscar inherited it along with adjoining property in 1876, and having promised it to two people, sold it to avoid litigation two years later.
The Martello Hotel, formerly the Heather House Hotel, has provided hospitality since the 1840s.
The Crofton Bray Head Inn at the foot of the eponymous hill is over 140 years old, with plenty of period character.
Naylor's Cove is the location of Sea Baths (Men Only) constructed c.1900 by the railway company, accessed from a single wooden platform halt under the road bridge, closed in 1929. The baths were popular until the 1960s.
Although long past its heyday as a resort, Bray retains something of its former atmosphere, especially in summer, when it is invaded by hordes of day-trippers and young English language learners. The down-at-heel amusement arcades, dodgems, ghost trains, candyfloss stands, chip joints and fortune-tellers' signs do not entirely take away from a certain faded gentility off the seafront.
Bray's bourgeois charm is best appreciated by strolling through the leafy residential area between Quinsboro Rd, Main St and Strand Rd, with strikingly English / Victorian toponyms such as Sidmonton Gardens,  Milward Terrace, Adelaide Road, Albert Avenue, Wyndham Park etc. Many of the houses have beautiful mature gardens that attract songbirds, butterflies and squirrels; foxes can occasionally be spotted.
Quinsboro /  Quinnsborough Road retains some traces of its original elegance, such as  the townhouses on Duncairn (formerly Dargan) Terrace (1859) and Goldsmith Terrace (1863), while Prince of Wales Terrace (1861) is particularly splendid. Sadly, nothing remains of the former Turkish Baths.
St Andrew's church (1858) on Quinnsboro Rd is said to be one of the oldest purpose-built Presbyterian places of worship in Ireland.
Sir Arthur Purves Phayne, who lived at 12 Goldmith Terrace, was Commissioner for Lower Burma in 1858, when the last of the Great Mughal Emperors was imprisoned in Rangoon following the so-called Indian Mutiny. Purves Phayne went on to become Governor of Mauritius.
The War Memorial commemorates the 155 Bray men killed in WWI (out of over 900 who fought) and others who died in WWII.
Bray Railway Station, opened in 1854, was renamed in 1966 in honour of Edward Daly, a leader of the 1916 Easter Rising. The eastern platform features an interesting set of murals depicting the history of Ireland's railways.
Bray Methodist church (1859) is a pretty Victorian edifice on Florence Rd.
The Jasmine House Restaurant at No. 85 Main St proudly displays a plaque in Chinese and Irish commemorating the 1911 birthplace of President Cathriul O'Dalaigh.
Calvary Bible church for Baptists has a discreet entrance at 43 Main St.

The church of the Holy Redeemer (RC), designed by Patrick Byrne in 1852, remodelled by William Byrne in 1898 and since considerably disimproved by modernisations) on Main St is the main parish church; Bray's Roman Catholics are also served by St Peter's church (1837) in Little Bray, Queen of Peace church to the south and St Fergal's church to the west.
The splendid old Town Hall at the top of Main St was designed in 1881 by Sir Thomas Newingham Deane and funded by the local landlord, William Brabazon, 11th Earl of Meath, whose family's heraldic Wyvern adorns the fountain in front of it. The edifice is shamefully desecrated by a hamburger joint.
Bray Town Council now occupies modern offices nearby. The complex includes The Mermaid Arts Centre, with a well-equipped auditorium which hosts a wide variety of music, theatre dance and film, an attractive gallery and a pleasant café. A small farmers market is held here on Saturdays.
The Vevay Road leads up Bray Head through the residential districts of the Vevay (where it meets Putland Road, stretching steeply from Strand Road) and Oldcourt to Kilruddery & Windgates.
Old Court / Oldcourt Castle, a Tower House built by the Earl of Ormond in 1433, stands in ruins on private land off the Vevay Road. An early Christian socket stone lies nearby.
Thomas Langlois Lefroy (1776-1869), who as a young man courted Jane Austen and may have been the model for Mr D'Arcy in Pride & Prejudice, later served as Chief Justice of Ireland 1852-66 and ended his days on the family estate of Newcourt, which like neighbouring Oldcourt is nowadays covered with modern housing.
Christ church (CoI), built to a design by William Slater in 1863 on a site donated by Lord Herbert of Lea on the Rock of Bray,  is the impressive Anglican parish church for which Church Rd  is named.
Killarney Road, lined with opulent Victorian and Edwardian residences, joined in recent decades by housing estates of varying social cachet, leads through the residential districts of Kilbride and Ballywaltrim to Kilmacanogue.
Herbert Road leads from the town centre through the residential district of Kilbrideto Kilcroney Cross.
Ardmore Studios, (formerly known as Pinetrees Studios), Ireland's only dedicated film making centre, located on Herbert Road since 1958, is one reason for the area's popularity as a film location. Famous productions filmed in or near Bray include local resident Neil Jordan's Angel (1982), Michael Collins (1996) and Breakfast on Pluto (2005),  Jim Sheridan's My Left Foot (1989) and In The Name of the Father (1993), John Boorman's Zardoz (1974), Excalibur (1981) and The Tailor of Panama (2001), Martin Ritt's The Spy Who Came In From the Cold (1965), John Guillermin's The Blue Max (1966), Anthony Harvey's Lion in Winter (1968), Yves Boisset's Un Taxi Mauve (1977), Alan Parker's The Commitments (1991), Ron Howard's Far & Away (1992), Mel Gibson's Braveheart (1995), Julian Jarrold's Becoming Jane (2007) and the recent television series The Tudors. The facility is currently undergoing financial difficulties.
The church of Ss Mary & Demiana just off Herbert Road serves the local Orthodox Coptic congregation.
Meeting facilities / places of worship have also been made available over the years for Plymouth Brethren, Jehovah's Witnesses, Mormons, Muslims, Hindus, Buddhists and various Evangelical sects.
The volume of immigrants in recent years has earned Bray the nicknames "Brayrut" and  "Brayjing". The number of residents of Oriental origin is particularly striking.
At least two Nazi collaborators, sentenced to death in France for helping German occupation forces during WWII, lived openly in Bray for many years:  Yann Renard-Goulet RHA (1914–1999), head of the Breton Bagadou Stourm fascist militia, became a sculptor, popular in Irish Republican circles, and boasted of being behind  terrorist attacks in his homeland during the 1960s – the head of police in Bray allegedly congratulated him on the success of a 1968 FLB outrage in Saint-Brieuc; while his compatriot Louis Feutren (1922-2009), a member of the notorious Waffen SS, taught French at a private school and somehow managed to bequeath 300,000 Euro to the National Library of Wales.
Other famous / interesting people associated with Bray include Joseph Sheridan Le Fanu and Lennox Robinson (who lived in the same seafront house at different times);   John Millington Synge and Roger Casement (both pupils at Aravon School, where the cranky novelist Monk Gibbon later taught); writers Richard Power, Liam O'Flaherty, Philip Rooney and James Plunket Kelly; folklorist William Larminie; Lusitania officer Captain Albert A Bestie; painter Paul Henry; musician Sir Herbert Hamilton Harty, conductor of the Halle Orchestra from 1920 to 1930; concert pianist Peggy Dell; tennis star Dr Joshua Pim; actor Cyril Cusack;  stage musical star Colm Wilkinson; wildlife film maker Éamon de Buitléar; journalist Dick Walsh; heavyweight broadcaster Brian Farrell; comedians Dave Allen and Dara O'Briain; politicians Roddy Conolly and Dick Roche; singers Sinead O'Connor and Mary Coughlan; music writer and singer Phil Coulter: Olympic boxer Katie Tatlor and novelist Anne Enright.
Bray has a wide range of pubs and eateries, although it has to be said that quite a few of them are pretty awful. One of our personal favourite drinking spots is O'Driscoll's Seaside Bar, owned by a grandnephew of James Joyce.
Bray's annual International Jazz Festival, held on the May bank holiday weekend each year, has been described by The Irish Times as "the connoisseur's jazz festival", and the town is also the venue for a popular Summerfest.
Bray shares its English name with a town on the River Thames in Berkshire, England, while Braye Harbour is the main port of Alderney in the Channel Islands.
"The Vicar of Bray" was originally a satirical C18th  song that  made fun of  a clergyman for changing his principles in order to remain in  office during religious upheavals that made it almost impossible to comply with successive State ecclesiastical requirements. The song, recounting the career of a vicar of Bray, Berkshire, through the reigns of several Tudor monarchs, gave its name to a C19th comic opera covering the period from 1633 to 1715, while a 1937 British historical film version directed by Henry Edwards starred Stanley Holloway as the vicar of Bray, County Wicklow, who was given a more positive character, successfully protecting his parishioners by adopting a diplomatic approach during the turbulent Wars of the Three Kingdoms and securing forgiveness for moderate rebels from King Charles II after the Restoration.  George Orwell wrote a tongue-in-cheek essay called A Good Word for the Vicar of Bray in 1946. A scientific hypothesis named after the Vicar of Bray attempts to explain why sexual reproduction might be favoured over asexual reproduction.