Durrow
 (Co. Offaly / North)
Durrow (Daru – "plain of the oaks") (p0p. 120), north of Tullamore, is the location of some of the only remaining pre-mediaeval oak woods in Ireland, surrounded by a mainly coniferous plantation with 5km of forest walks.
Durrow Abbey

 

Durrow Abbey is an early historic and medieval monastic site containing a complex of archaeological monuments, ecclesiastical and secular, visible and sub-surface, in the care of the OPW.

 

Durrow Abbey High Cross, the oldest visible object on the site, dates from the C10th and is magnificently carved with Biblical subjects, possibly by the artist responsible for the Cross of the Scriptures at Clonmacnois and Muiredach's Cross at Monasterboice. An excellent video study can be viewed here.

The original monastic settlement at Durrow was founded in 553 AD on lands granted by Aed MacBreanainn, chieftain of Tethba, to Saint Colmcille / Columba (521 – 597 AD), who had already founded some 26 similar communities. On his departure he handed responsibility to Cormac Ua Liathain, who found it impossible to remain in office due to rivalries between the northern and the southern clans, and so fled from the monastery, ceding control to Laisrén, a first cousin of Columba's who was acceptable to both sides.

 

Durrow became a famous centre of learning, referred to as Monasterium nobile in Hiberniâ by the Venerable Bede, and later as of the Universities of the West, together with Armagh. It engaged in a notorious war about royal burial rights with the monks of Clonmacnoise in 764 AD, and was plundered and burned several times by the Vikings.

 

By the late C12th it had become an Augustinian establishment, but was desecrated in 1186 by Hugh de Lacy, who destroyed part of the complex to construct a motte & bailey (long vanished) and was murdered on site by one of the workers.

 

Beside the famous High Cross are five early cross-inscribed gravestones, and a fragment of another cross stands nearby. The ancient graveyard, long used by both  Roman Catholics and Protestants, closed amid controversy in 1913.

 

The old Protestant church was built in c.1725 on the site  of a medieval church, which may have itself been constructed on the footprint of a former C12th century abbey church. High on the western gable is a small flat stone mask which may have come from one of the earlier edifices.  Deconsecrated in the 1880s, the building is currently undergoing restoration as a Visitor Centre.

 

The Roman Catholic church, erected in 1831, is a splendid gothic edifice with a tall tower, battlements, pinnacles with crockets and an impressive vaulted interior.

 

A second Anglican church, constructed c.188o, is now a private residence.

 

A path leads to a Holy Well on  St Colmcille's Island, a dry area surrounded by marshy bog, venerated as a place of pilgrimage since time immemorial. 

Durrow Abbey House,  constructed c.1832 on the site of Castle Durrow, long the seat of the increasingly impoverished Stepney family,  was a splendid mansion commissioned by Hector John Graham-Toler, 2nd Earl of Norbury, who despite his infamous Hanging Judge father was not personally disliked; an unpopular land agent is thought to have been the reason for his sensational murder in the demesne in January 1839. Over 150 "gentlemen of property" attended his funeral, at which family members defied a tradition that tenants should carry the coffin.

 

Rebuilt in the 1920s as an edifice of significant quality, it  has recently been leased to the Arts for Peace Foundation as a  respite centre for children from conflict zones.
The Durrow Crozier, a C6th artefact handed down through generations of the McGeoghegan family, is now preserved in the NMI
The Book of Durrow

 

The Book of Durrow, an ancient illuminated manuscript,  possibly originated locally, where it was found in the hands of a dairy farmer who used to dip it in the water trough to prevent bovine ailments.  Known to have been studied by James Ussher when he was Anglican bishop of Meath in the early C17th, it was presented together with the Book of Kells  by his successor Henry Jones some fifty years later to the Library of Trinity College, Dublin, where it is on display.

 

Probably dating from the mid-C7th and thus the earliest surviving fully decorated insular Gospel manuscript, the Book of Durrow is thought by scholars to have been written and illuminated at the monastery on Iona. It contains the earliest examples of figurative art in the British Isles in the form of  double cross wreathed with interlace and symbols representing the Four Evangelists. Fascinatingly, the inspiration for these illustrations is believed to have come from a  manuscript of the Diatasseron, a synthesis of the life of Christ from the Gospels, penned in an eastern Anatolian monastery in the C4th AD, which arrived by a circuitious route to the Scottish island some 350 years later.
The oak trees lining the fields beside Durrow Abbey mark the route of the ancient Slighe Mór highway.
Durrow is close to Kilbeggan (Co. Westmeath) on ByRoute 13.
Tihilly church & High Cross, about three miles outside Tullamore on the old Clara road, mark the site of a monastic community founded by Saint Fintan in the C6th AD, then administered by Saint Cera, and later rebuilt by Tihillius;  the last Abbot died in 936 AD. The ruined medieval church contain ancient stonework, and an early Christian slab lies nearby. The badly weathered C9th cross, set into a rough round base, is carved with scriptural scenes, intricate patterns and motifs.   Access (by permission only) is through the farmyard of the owner of the land on which the monastery is situated. A good photo of the cross can be viewed

here

.
          Ballycowan Castle,
west of Tullamore, is a Tower House built  c.1589  by
Thomas Morres
on the site of a previous
O'Molloy
stronghold beside the
Tullamore River
, and substantially remodelled in 1626 by 
Sir Jasper Herbert,
an English settler who married
Lady Jane Finglas
and is recorded as an "Irish papist" in the
Down Survey
. In 1650 it was attacked by Cromwellian troops under
Generals Hewson and Reynolds
, who blew up the southern end. The property was granted to the
Earl of Mountrath
in 1666. The impressive ruin is visible from the
Grand Canal
. (Photo by
Kieran Campell
)
Lynally church & graveyard, located in pasture land south of the Grand Canal and the Clodiagh River, was the site of a major monastic settlement founded c.590AD by Saint Colman Elo (d. 611 AD), whose supposed grave is marked by a flat medieval marker. A number of early Christian grave-slabs from the site are now held by the NMI. The ruined church has Romanesque, C15th and C17th features; some decorated fragments inside may date from the original edifice. Two crypts make the interior somewhat unsafe, but plans to fill them up with concrete were fortunately blocked by the Offaly Historical Society. Some Spanish Armada survivors who settled locally are said to be interred here. An overgrown motte stands nearby. The enclosure, clearly visible from the road, is on private land, and permission must be sought from the owner to visit it. (Photo – www.thestandingstone.ie)
Rahan (Co. Offaly / West)
Rahan (Raithean) is a village on the Grand Canal.
The Rahan churches

 

  Medieval ecclesiastical ruins in various states of decay stand on the site of a monastic settement reputedly founded c.580 AD. (Photo by Diarcon)

One of the first monks was Costetynn / Constantine, a former king of Dunmonia (Cornwall) doing penance for his spectacularly sinful career of murders and adulteries. He joined Saint Colmcille / Columba in his mission to convert the Picts, had his his right arm cut off  by pirates  in 598 AD, and bled to death; he is considered Scotland's first martyr. (Not to be confused with the Saint Constantine revered in the Greek Orthodox Church, a later king of Strathclyde, who also spent time as a monk in Rahan after 635 AD and subsequently founded several churches in Scotland).

The monastery was developed by Saint Carthach / Carthage / Mochuda. It is recorded that he and as many as 800 of his followers were expelled by the Meathian chieftain Blathmaic in 635 AD, and went on to found the monastery at Lismore (Co. Waterford), but has long been venerated as the patron saint of Rahan.

The Rahan monastery appears to have been refounded in the C8th by two brothers, Fidhairle and Fidhmuine Ua Suanaigh, with at least some elements of a hermitage – Fidhmuine was an anchorite.

The Ui Chonnaill and their allies slaughtered "700 foreigners" (presumably Norsemen) here in 917 AD.

Another church on the site was burnt down on top of chieftain Mortagh O'Molloy and his wife in 1131, who had "polluted" it by sleeping togeher there the night before.

The most intact church, used until recently for occasional Anglican services, has circular windows carved in low relief, unique in Ireland. An interesting video study can be viewed here.

Cistercian monks chanted at a 2008 ceremony by local politicians to launch a restoration plan for the Rahan monastic site.
Tullabeg, a former seminary / school / retreat house (1818 – 1991), was the second Jesuit foundation in Ireland after Clongowes Wood College (1814). The building contains a chapel (c.1869) with very fine stained glass windows by Evie Hone.
The Presentation Sisters' convent at nearby Killina, founded around the same time, is nowadays notable for its artistic website.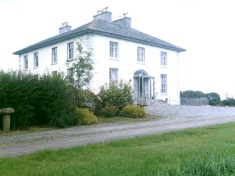 Rahan Lodge in Killina was built in 1745 by Henry Petty as a hunting lodge, and became part of the Lansdowne estate. Still known locally as "Sherlock's" after former owner David Sherlock QC, MP and something of an inventor, it was the first house to be heated and lit by a generator using gas extracted from the bog (c. 1885). Long a "home from home" for visiting judges and senior clerics, it was restored in 1987 by Carole and Paddy McDermott, who provide elegant B&B accommodation.
The Thatch, a pub established in 1902, is a well-known music venue, and also has B&B accommodation facilities.
Rahan is not far from Clara  and Ballycumber on ByRoute 13.