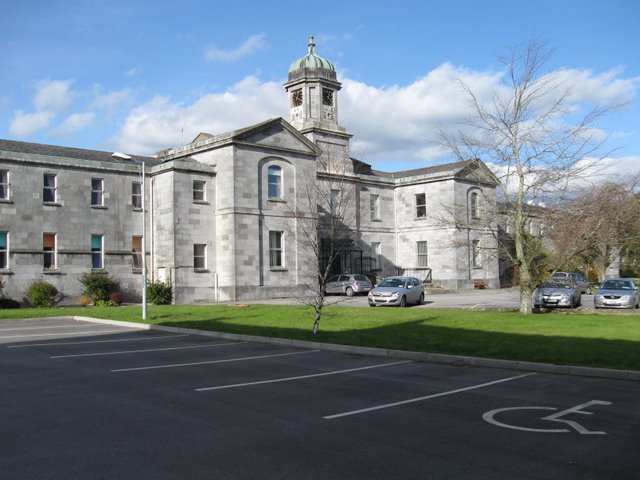 St Luke's Psychiatric Hospital (1831), closed in 2009, is currently pending development. (Photo by kevin higgins)
St Patrick's Borstal Institution, Clonmel, established in 1906 as a place of detention for young male offenders aged between 16 and 21, was  the only Borstal instituted in Ireland. Promoted by the Unionist MP Richard Bagwell, president of the Borstal Association of Ireland, it was established on the site of Clonmel's historic town gaol. The average number at Clonmel at any given time was about 50, about half  sent directly by a court and the others transferred by Ministerial order from the ordinary prisons. The regime in Clonmel allowed a level of trust to develop between the staff and detainees. At the discretion of the Governor, the boys could be allowed out into to town to find work. The institution was closed in 1956.
The Museum of Transport, described as "two floors of gleaming nostalgia", has a splendid range of old cars, including a 1904 Clement Talbot, Rolls Royces, Jaguars and Fords from the 1930s on and a 1965 VW Karman Ghia. The collection, housed in a restored mill, can  currently only be viewed by appointment.
Clonmel's handsome Railway Station (1852) is on the Rosslare – Waterford – Limerick line. (Photo by liam murphy)
The old Quay on the River Suir fell into disuse c.1920, when the barges ceased to sail, but the bollards used for tying the boats remain to be seen along the quay walkway.
The Denis Burke Park, a wooded area on the south side of the River Suir, just opposite Suir Island, is a good spot to listen out for birdcalls.
Lady Blessington's Bath




Lady Blessington's Bath is a lovely spot beside the River Suir. The towpath can be followed in either direction  as part of the East Munster Way.




Born locally, Marguerite Power (1789 – 1849) married young but fled her violent husband and remained in Clonmel until she took up with Charles John Gardener, 2nd Viscount Mountjoy, who became Earl of Blessington in 1816; her first husband's death in 1818 enabled them to marry, and they enjoyed an extravagant lifestyle, mainly on the Continent due to a liaison with Count d'Orsay, which gave rise to much scandal in London.

Lord Blessington's death in 1829 left the Countess in financial difficulties, which she began to solve with the publication of her Conversations with Byron in 1834. In her new career as a journalist and travel writer she  contributed to many publications, and also penned the novels Grace Cassidy and The Two Friends.
Heather Crest Garden is an award-winning half-acre ornamental garden created by Helen O'Brien in a rural setting, containing heathers, conifers, shrubs and herbaceous borders, pool and rockery, and a Japanese garden with wonderful views of nearby Slievenamon.
The Richard Mulcahy Town Park on the Waterford Road occupies 11 acres on the north side of the River Suir, featuring a fine selection of broadleaf trees including oak, beech, ash, lime, hornbeam, maple, elm, horse chestnut, turkish hazel, plane and willow. There is also a pinetum containing pines, fir, cedar and larch..
Laurence Sterne (1713 – 1768), the literary comic genius author of the nine volume Life and Opinions of Tristram Shandy (1759 – 69), was born locally, and it's not at all difficult to imagine Shandyesque shenanigans in the fine Georgian country houses of the vicinity. He is commemorated by a limestone plaque by Frances Dietrich on the West Gate.
Mick Delahunty (1915 – 1992), a hugely popular locally born Showband leader who was aka "Ireland's Glen Miller", is commemorated by a Square graced by the modern South Tipperary Civic Centre.
The Frank Patterson Tribute, unveiled in 2002, is a bronze statue of the great Irish tenor (1938 – 2000) whose musical career was launched as a boy sorprano in Clonmel.
Clonmel's Barracks, built in 1780 to counter a perceived threat of rebellion from the growing Irish Volunteer movement, was extended in 1805  in anticipation of an invasion by Napoleon, named after Queen Victoria in honour of her Coronation in 1837, enlarged in the 1870s, became the regimental depot for the Royal Irish Regiment in 1882 and was used for training soldiers for WWI.  During the War of Independence Clonmel was garrisoned by the Devonshire Regiment and from mid-1921, the Yorkshire & Lancashire Regiment. In February 1922 the Barracks was taken over by Commandant Dalton, commander of 5th Battalion of the 3rd Tipperary Brigade of the IRA. Renamed in commemoration of the C19th Tipperary propagandist, Charles Kickham, the Barracks was renovated in 1945, and housed members of the 12th Infantry Battalion until its closure in March 2012.
George Borrow (1803–1881), English polyglot, ethnologist of the Romani people and author of The Bible in Spain (1843) and the semi-autobiographical Lavengro (1851), in which he mentions his time in Clonmel, lived in the town with his army officer father in 1815, when he was taught the words of Lay Down Croppies, learned to read Latin and Greek "from a nice old clergyman" at the Protestant Academy, and was tutored in the Irish language by a fellow student named Murtagh in return for a pack of playing cards.
Anthony Trollope (1815–1852) worked for a period in the town's Post Office.
Clonmel Greyhound  Stadium holds regular races, and also attracts protesters as the venue for annual coursing events.
The Clonmel Theatre Guild, founded in 1969, produces three plays per season, including Dinner – Theatre nights at the Clonmel Arms Hotel.
The Clonmel Junction Festival, held in the first full week of July every year, showcases a mixture of theatre and various styles of music, with local, national and international performers.
Clonmel is due south of Lisronagh on ByRoute 4.
South of Clonmel
Careys Castle / Glenabbey House

Carey's Castle is a picturesque C19th edifice constructed in a variety of architectural idioms, with a Celtic Round Tower, a Norman Keep, Gothic windows, and both Romanesque and Gothic arches. Constructed by the Carey family of schoolmasters in Clonmel, it was  leased to a group of Benedictine monks from Belgium and later occupied by a French  Order called the Friars of Zervoix.

The ruins, including an overgrown walled garden and an ice house, stand in a beautiful Coillte-owned mixed woodland adjacent to the Glenary River, a tributary of the River Suir. A riverbank path wends through glades of birch, oak and beech where observant visitors can spot fallow deer, foxes, rabbits, otters and sparrow hawks. Plant life includes woodrush, sorrel, ferns and sage.

A section of the 70km East Munster Way passes through the wood.
Glenary and Kilmacomma, two deserted villages nearby, were inhabited until the 1960s, and some ruins remain.
Carey's Castle is not far from Ballymacarbry (Co. Waterford) and the beautiful Nire Valley on ByRoute 3.