Ballinskelligs Bay has an attractive beach. (Photo by spk 100)
The ruined seaside Augustinian Priory, dedicated like Sceilig Mhichíl to St Michael the Archangel, was where the island monastic community withdrew in the C13th. The "parish of the Prior" (as the local parish is still called in Irish) traditionally held its Pattern on September 29th, the feast day of the archangels Michael, Raphael and Gabriel.
Ballinskelligs / Baile na Sceilge, a Gaeltacht community that like many others in the West of Ireland is less of a village than a district, scattered across hill slopes overlooking the bay, has a little harbour from where visitors can hire boats out to the famous Skelligs islands.
Nearby are the remains of a MacCarthy castle. The surrounding area has numerous prehistoric sites and other early Christian ruins, including an old burial place called Regles, with the ruins of an abbey.
St Michael's church (RC)  is in the village of Dun Geagan / Dungegan, also home to Siopa Chill Rialaig, a unique thatched edifice comprising an art gallery with a retail area offering Irish and international artists a sales outlet for their work. Painting, sculpture, glass, ceramics, and multi-media work make this a very interesting place to browse. There is a cosy café, complete with turf fires in winter, attached to the shop.
Social life is largely based around the local pubs, which regularly host traditional music and dancing. We can personally recommend the large establishment beside the harbour.
Rascals Restaurant / B&B in the Old Schoolhouse (1845) is highly recommended.
Each year the community hosts the annual Ballinskelligs Regatta.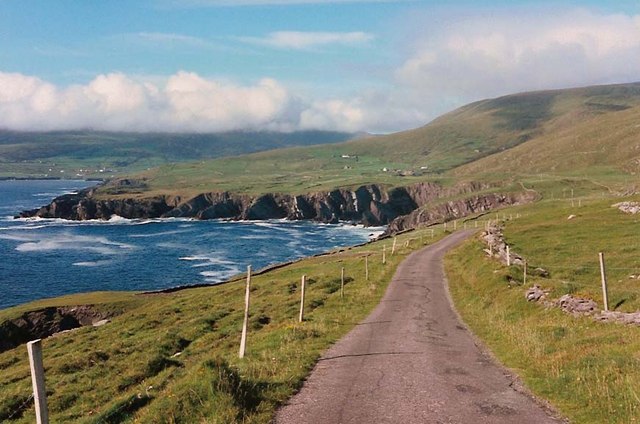 Bolus Head is wild, windswept and lonely. (photo by Martin Creek)
Cill Rialaig

Cill Rialaig is on the road from Ballinskelligs to the tip of Bolus Head, with stunning views of Feenish and Deenish Islands at the mouth of Kenmare Bay. It was a set of melancholy roofless ruins when we first visited in 1985; by chance we were  listening to Faure's Requiem,   rendering the location all the more atmospheric.

Cill Rialaig (Photo – www.spirited-ireland.net)

The hamlet of small stonewalled houses, built and laid out in the late C18th in a vaguely military style, may have been originally intended for coast guard use, but soon became home to a fishing community. Contrary to what many visitors imagine, the village was not  abandoned as a result of the Great Famine, but was inhabited until the 1960s.

The Rialaig Project, a 1990s initiative promoted by retired publisher / socialite Noelle Campell-Sharp, with the official blessing of subsequently disgraced Taoiseach Charles J Haughey, has been restoring the cottages as studios, and the village is now a world-renowned artist's retreat.

Selected from many hundreds of applicants, artists can spend residency periods of up to one month away from their usual environment and commitments, to work in peace in a beautiful place, and in return they donate some of their work to the Siopa Chill Rialaig gallery in Ballinskelligs, where it is sold to help fund the project, a registered charity which also has an art gallery on Stephen's Green in Dublin.

The restoration and maintenance of the cottages and running of the gallery provide local employment, an aid to regeneration in a rural Gaeltacht community that was suffering from economic decline, and the interaction of the visiting artists from all over the world with the local people, enriches both communities.
St Finan / Finian's Bay has a lovely beach, ideal for swimming or surfing. A large hillside house used to belong to Hollywood actor Robert Shaw.
The Skelligs Chocolate Factory in St Finan's Bay is makes fine exotic confectionery.
Puffin Island is a lovely big, high, chunky island at the northwestern tip of Saint Finan's Bay. The cliffs on almost all sides are huge. Puffin, rabbits and sea-pink abound. The remains of a beehive hut can be found on the south side of the main ramp to the higher parts of the island.
Portmagee (An Caladh – 'the Ferry') is a fishing port with picturesquely painted houses at the southwest tip of the Portmagee Channel. The village has several very good traditional pubs and excellent eateries, fresh seafood being the star attraction. (Photo – www.irelandexpert.com)
Portmagee derives its English name from Captain Theobald Magee, a notorious C18th smuggler.
Since New Year's Eve of 1822, when a Scottish ship, The MacGonagle, was moored in Portmagee's harbour to wait out an Atlantic storm, the arrival of each 1st January has been celebrated in Portmagee with a strange ceremony based on the Hogmanay celebrations in the sailors' home port, quaintly if inaccurately recalled as "Lichylachylomond". (Or so they claim! Who needs an excuse for a party?)
The area has truly amazing scenery, and is noted for particularly beautiful winter sunsets. The best views of all are from the Coomanaspig Pass separating Portmagee and St. Finan's Bay.
The village has since 1970 been connected by a road bridge to near the southwestern end of Portmagee Channel to Valentia Island, and also serves as a departure point for boats to see the Skelligs and visit Skellig Michael. Both excursions are very highly recommended.
The Skelligs Experience Heritage Centre (just across the bridge on Valentia Island) is worth visiting in its own right, before, after or even instead of (i.e. if weather conditions or other circumstances prevent) a trip to the Skelligs.
Illaunloughan is a small, low-lying island, about 400m from Portmagee, which can be reached on foot in low spring tides. This is an early church site with an altar, a killeen burial ground for "children and strangers" and a spring-fed Holy Well roofed with a large stone lintel. In 2003 overseas research groups carried out some excavations. A book about the island has been written by Claire Walsh.
Valentia Harbour and its islands

 

Valentia Harbour, the sound between Valentia Island, Reenard Point and Doulus Head is a lovely stretch of clear, sheltered water, particularly recommended for scuba diving novices, as there is lots to see underwater, including  a trawler wreck at 12m, scallops, shrimps, lobsters and conger eels). (Photo – www.valentiafishing.com)

Beginish Island is a lovely island with a prominent Cromwellian watchtower and idyllic views. It is inhabited; the residential section is entirely on the western side of the island, where there is an extensive beach.

 The island has  the remains of an early church site, a killeen, and a small standing stone with crosses inscribed on both sides It has been established that the island was inhabited around 1050 by a mixed Gaelic / Norse community, who left several huts, one of which has a lintel stone bearing a Scandinavian rune.

Archaeological excavations have revealed early field systems, and more unexpectedly, a reasonably preserved semi-submerged dwelling with a ramp leading down to the doorway. This construction is unique for its time and is accepted as a Viking settlement. It was probably used as a stopping place during sea voyages between Cork and Limerick. Further digs are planned to reveal an expected burial ground.

Church Island can be reached on foot from Beginish at very low tide. side. It is named for its rectangular church, two walls of which are in ruins. There is also a good circular dwelling. The wall around the island marked all ground inside as consecrated. Only Holy Men could sleep inside. A small gap, still visible, allowed lay people day visits to the Church. There are also the remains of some sort of special grave.
White Strand is a beautiful sheltered beach with a good car park at its northern end.
Reenard Point is the mainland dis/embarkation site for the summer car ferry across Valentia Harbour, linking the mainland and Knightstown on Valentia Island. There is a superb seafood pub on the pier.