Saint Patrick's earliest church in Armagh was probably Templum na Ferta, "the church of the Relics",  on a site below the Hill of Armagh  now occupied by St Patrick's Fold, a handsome townhouse designed by Francis Johnston and constructed in 1812.
St Patrick's Cathedral (CoI)

 

The Metropolitan Cathedral of St Patrick claims to trace its origin to c.445 AD, when Saint Patrick built a stone church on the hilltop site; it has been destroyed and rebuilt 17 times.

 

Built around the shell of the cathedral completed by Archbishop O'Scanlan in 1268, the present edifice is mostly an 1834 reconstruction commissioned at great personal expense by the 2nd Earl of Tyrone & Marquess of Waterford's son, Archbishop Lord John George De la Poer Beresford, whose family wielded great influence in the Church of Ireland, and whose cousin Marcus Gervais Beresford was a later Primate. (Photo by Strabanephotos)

 

Architect Lewis Nockalls Cottingham's Gothic Revival style structure was disliked by WM Thackeray, who commented in 1842 that the new Cathedral was "too complete…not the least venerable. It is as neat and trim as a lady's drawing-room", but admired the monuments within.

 

The sombre interior, filled with impressive ecclesiastical furnishings and tombs illuminated by some beatiful stained glass windows, is notable for statues by Roubiliac, Chantrey, Rysbrack and Nollekens. A plaque indicates the burial place of Brian Boru.

  The street layout on the slopes around the old Cathedral reflects the many defensive rings erected over the last 1500 years.

 

According to popular legend, locals looking up at the spires of the Roman Catholic cathedral and the steeple of its Anglican counterpart used to joke about "the horns of a dilemma". Alas, the 1834 Church of Ireland cathedral never had a steeple! 
The Church of Ireland Diocesan Hall, across the road from the main gate of the Cathedral, is a neo-Elizabethan edifice erected in 1912.
St Mark's parish church (CoI), erected in 1811, is a charming Gothic edifice on Victoria St with an exceptionally attractive interior.
Armagh First Presbyterian Church (1879) on the Mall is a large Gothic revival style church with graceful 185ft spire and interesting carvings of vines, acorns, scrolls and, oddly, a monkey. (Armagh's first Presbyterian congregation was established in 1673, and from 1725 until 1879 worshipped in a  church in Abbey Street that now forms parto of the St Patrick's Trian Heritage Centre).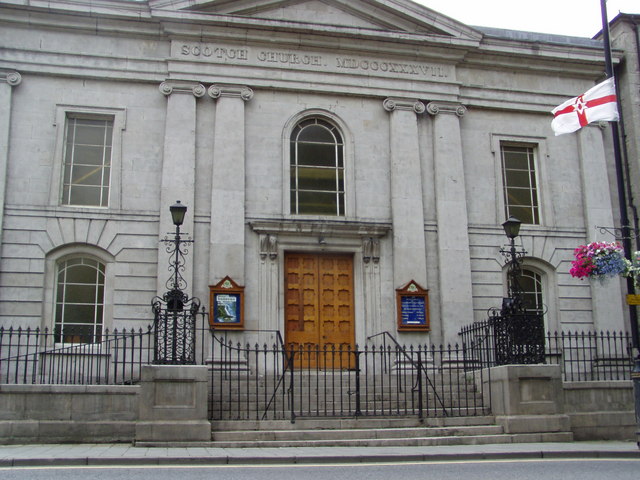 The Mall Presbyterian church (1837) is a handsome late Georgian-style building. (Photo by Henry Clark) Next door to it is a former granary, now the Presbyterian church hall.
Armagh's Free Presbyterian church is a modern building on George's St.
Armagh's Methodist church on Charlemont Gardens off the Mall dates from 1835.  Methodism reached Armagh in 1767 when John Wesley, prevented by the Sovereign from preaching at the Market House, was invited to address a large gathering  at a house on Abbey Street, to which he returned on his many subsequent visits to the city, the last being in 1789. The first Methodist church, or Chapel as it was commonly called, commenced construction nearby in 1786, but within 50 years had become too small, so its succesor 'was so constructed as to admit of the addition of galleries by which the seating capacity might be doubled'.  This church was remodelled in 1888 by J J Phillips of Belfast. The abutting hall was built to the designs of W J Barrie in 1859 as a Sabbath and Day School; the substantial dwelling on the lower side was at on time the Minister's Manse, and below it is a former Primitive Methodist Meeting House.
Armagh City's Orange Hall, a rather odd looking building dating from c.1870, is also on Charlemont Gardens. (The Orange Order was founded in nearby Loughgall in 1795).
The Plymouth Brethren's Woodford Gospel Assembly occupy a former Masonic Hall  at Ardmore on the outskirts of Armagh City; designed by JH Fullerton in 1884, it is  an  eccentric building with a belfry and turreted staircase.
St Patrick's Cathedral (RC)

 

St Patrick's Cathedral, designed in two conflicting Gothic styles by Thomas J Duff of Newry (1838) and JJ McCarthy of Dublin (1853), features twin 64m spires, making it the tallest such structure in the county.  The imposing edifice is reached by a steep flight of steps and flanked by two large marble archbishops, who look mildly across town.

 

The "National Cathedral" was begun by Archbishop Crotty in 1840, opened in 1874 and finally completed in 1904; one of the longest gaps in construction took place during the years of the Great Famine, when the Primate himself died of cholera.

 

Easter Monday 1854 was declared 'Resumption Monday'. Financial contributions for the Cathedral came from all over the world, and to raise extra funds the archbishop took the unusual step for those days of following Anglican example by organising a grandiose church féte. 'The First Bazaar' of 1865 became a household word in Armagh, not alone for its material success (over £7,000 was raised, a remarkable sum for the times), but also for the unique character of some of the prizes. Pope Pius IX sent a beautiful ivory carving of Raphael's 'Madonna Di Foligno'. The Emperor of Austria sent a table of rare inlaid work specially designed for the occasion, while Napoleon II chose  two magnificent vases of Old Sevrés from the Tuileries Staterooms. An interesting relic of the Bazaar is the grandfather clock now standing in the Cathedral sacristy. This was a prize which has never been claimed.

 

JJ McCarthy completely changed Duff's design by altering the style from English Perpendicular to French Decorated, so that, as Maurice Craig dryly observes, the spectator must support the absurdity of "fourteenth-century" works standing on top of a "sixteenth-century" design (except for the tracery which was harmonised); adding "but in most ways it is a very successful building".

 

The sacristy and synod hall were built between 1894 and 1897 by William Hague (d.1899), who also designed a great rood screen for behind the high altar. Further extensive interior work was undertaken between 1900 and 1905 to the designs of Ashlin & Coleman of Dublin for Cardinal Logue, who held a Second Bazaar that raised 30,000 pounds, and in search of marble and other materials set off at his own expense  to Italy, where he commissioned Oreste Amici to paint the ceilings. The cathedral was re-consecrated in 1904.

 

Casualties of post-Vatican II Liturgical Re-ordering  and other modernisations included Cesare Aureli's high altar, Beakey's pulpit, the rood screen, McDorey's choir stalls, and the 1875 Telford organ. Jeanne Sheehy acidly records "the replacement … of a fine late Gothic revival chancel with chunks of granite and a tabernacle that looks like a microwave". The revamped cathedral has been described by a local artist as "a cross between an airport foyer and a shopping mall".

 

Others consider the interior "absolutely stunning" for its fine ceramic mosaics and marble floors. Imogen Stuart's carved wooden Cross of Christ (1982) also has its fans. (Photo – www.simonknott.co.uk)
The parish church of St Malachy (RC) on Irish St was erected in 1938.
From Reformation to Emancipation

 

The Roman Catholic Archiepiscopacy of Armagh, already weakened by the habitual residence of incumbents in County Louth or even Dublin, came under increasing strain as the Protestant Reformation developed, with several vacancies of varying duration.

 

Primate George Cromer (d.1543), suspected of heresy by the Holy See , was deposed in favour of Robert Wauchope, a prominent theologian, who upon being challenged by Crown appointee George Dowdall, withdrew for authorisation to Rome, where he died; Dowdall officially succeeded him, but died three months later, his dream of founding a University unfulfilled. 

 

Archbishop Richard Creagh was arrested in 1567 and languished in the Tower of London until his death in 1585.

 

Archbishop Peter Lombard remained in exile for the 24 years of his incumbency until his death in 1625. His successor, the learned Franciscan Aodh Mac Cathmhaoil / Hugh MacCaghwell / Cavellus of Salamanca, was consecrated in Spain, but died before he could reach Armagh.

 

Archbishop Hugh O'Reilly was forced abroad in 1651. His successor Edmund O'Reilly was on the run for two years, living in woods and caves, and spent most of his 12-year incumbency in exile in France, where he died in 1669. 

 

Aristocratic Primate Oliver Plunkett was arrested for treason and confined in Dublin Castle for many months; when a Protestant Irish jury refused to indict him, he was taken for trial to Westminster Hall in London, where despite influential friends at court and supporters within the judiciary he was convicted, and then hanged, drawn and quartered before a large crowd at Tyburn in 1681. (As the last Roman Catholic martyr to die in England, he was canonised in 1975, the first new Irish saint in almost 700 years).

 

Archbishop Dominic Maguire was forced into exile after the Jabobite defeat in the Williamite War, and died destitute in 1707. After a 23-year gap, his successor Hugh MacMahon was obliged to remain constantly on the move, administering the sacraments in the open air. He was succeeded by his two nephews in turn, Bernard MacMahon and Ross MacMahon, who spent most of their time in hiding.

 

The next two Primates, Michael O'Reilly and Anthony Blake, experienced a gradual reduction in persecution. Richard O'Reilly, coming from a rich family, was the first post-Reformation Roman Catholic Archbishop of Armagh to "live in a manner becoming his station".

 

Patrick Curtis, former Rector of the Irish College in Salamanca, had become friendly with the Duke of Wellington during the Peninsular War, and as Archbishop saw the Iron Duke's government introduce Catholic Emancipation.
As of the last official Census day in 2001, 68.3% of the population of Armagh City were from a "Catholic Community Background", while 30.2% were from a "Protestant and Other Christian (including Christian related) Community Background"; 11.6% were born outside Northern Ireland.
Primacy of All Ireland

 

The Primacy of Ireland was long disputed between the Archbishop of Dublin and the Archbishop of Armagh, until the matter was referred in 1353 to Pope Innocent VI in Avignon, who on the advice ofthe College of Cardinals ruled that the prelates should henceforth be called  Primate of Ireland and Primate of All Ireland respectively.

 

A similar distinction was made in England, and still holds between the Anglican Archbishop of York, who is the Primate of England, and the Archbishop of Canterbury, who is Primate of All England.

 

In the Roman Catholic Church, one or other of the two Irish Primates has  been a member of the College of Cardinals since c.1850.

 

Lists of the various Archbishops of Armagh can be read here.