Sightseeing (Cont.)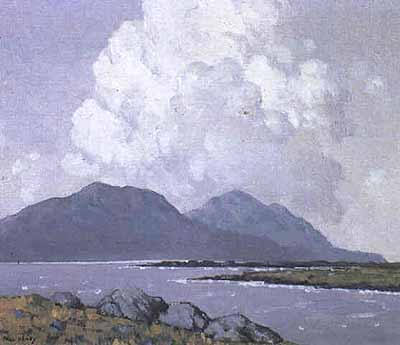 Achill Head by Paul Henry (a view of Craughan Mountain, with Saddle Head and Achill Head protruding, , as seen from Belmullet Peninsula, with the Inishkea Islands in the foreground)
The Saddle Head & Blacksod Bay side of the island, much of which is cut off from civilisation altogether and can only be reached on foot or by boat, is worth the excursion only for exceptionally fit and experienced hikers. Sights  at least one memorable sea arch and a truly remarkable pap-shaped hill.
Croaghaun / Cruachán (688m), the highest mountain in the Achill area, together with its indistinguishable extension Tonacroaghaun, features almost 7km of perpendicular cliffs, said to be the highest sea cliffs in Europe at c. 606m / 2,000ft. The mountain is also the location of five corries lakes.
Lough Bunnafreva West, perched precariously on the edge of the huge cliff at 1,500ft above sea level with another cliff overhanging it, was described by Robert Lloyd Praeger in The Way That I Went as  "a place so lonely and sterile and primeval that one might expect to see the 'piast' or other Irish water-monster rising from the inky depths of the tarn."(Photo by gerrym)
Lough na Keerogue ("Lake of the Beetles" – not, as one guide has it, "Lake of the Beatles"!), at just 16m above sea level, is the lowest corrie lake in Ireland.
A megalithic tomb nearby has a hut of more recent vintage built inside it.
There are also ruins of a booley, where communities such as Dooagh and Pollagh would send teenagers is summer to supervise cattle grazing on the hillside, and then drove them back down in the autumn. "Booleying" was practised within living memory in several areas of Achill and the Corraun Peninsula.
Annagh Strand, an utterly beautiful beach at the north foot of Croaghhaun, accessible only by boat or on foot, is the setting for many ghoulish stories involving ghosts and apparitions, almost certainly the product of fertile adolescent imaginations on long summer nights of "booleying".
The Scotch House, now in ruins, recalls Achill's C19th commercial salmon fishing industry, founded by a Scotsman named Alexander Hector, who came to the island in 1855 and established operations on various coasts throughout Achill and the neighboring Corraun peninsula. This complex included a stone one-room structure with a fireplace and chimney, with an adjacent raised platform bounded by retaining walls that delineated a working area. Part of this space was further divided by a low stone wall extending from the building, and a shelf running along the exterior wall of the building. Hector introduced a device known as the bag net which proved very successful at catching large quantities of salmon. He had several bag nets deployed offshore Annagh and a number of other places along the coast. The ruined complex at Annagh, like those that once existed at Keel and elsewhere, would have served as a staging and working area for Achill fishermen, who would have used Hector's boats and equipment and been supervised by Scottish overseers. The Annagh station may have been used to house fishermen or overseers, to store and maintain boats and other equipment, or to process fish and prepare it for transport to a centralized curing station at Keel or Achill Sound.
Slievemore (671m), the second highest mountain in the Achill area, is a dominant presence not only on the island but also for miles across the nearest parts of the mainland. (Photo by Jason Calvert)
The Seal Caves at the back of Slievemore are worth an excursion; fat and prosperous looking seals lounge on the rocks on hot summer days, toying with their whiskers and growling at one another.
"The Deserted Village", on the dark rifted slopes of Slievemore, is an eerie ghost settlement of over 70 abandoned homesteads. The houses, built of unmortared stone, consisted of just one room, used as kitchen, living room, bedroom and even stable. Abandoned at the time of the Great Famine, when the inhabitants would have been forced to move to the coast to avail of fish and shellfish, the cluster of buildings remained in use as a "booley village".
Just west of the deserted village is a Martello Tower. Also located in this area, but difficult to reach, are some impressive megalithic tombs dating from 4000-2000 BC.
Achill Archaeological Field School, established in 1991, provides training for students from all over the world, who spend summer months investigating sites in the Slievemore area.
Dugort / Doogort / Dumha Goirt is an attractive seaside village with an active arts & crafts scene.
"The Colony"

Dugort was the location of the once flourishing Achill Mission, aka "The Colony", founded in 1831 by the Reverend Edward Nagle, a proselytising young Church of Ireland minister from Co. Meath, who attacked "popish superstition and idolatry" and advocated a form of Militant Anglicanism called "Christian Heroism".

Arriving at a time of poverty, famine and disease, he transformed a huddle of stone hovels into a pleasant village, helped families construct cottages and cultivate vegetable gardens, and taught young men skills such as carpentry and sign writing (which were to stand many in good stead when they later emigrated to America's Midwest). Over the years he established schools, a small hospital, an orphanage and a hotel (later known as The Slievemore, now converted into apartments) and published The Achill Missionary Herald monthly. He and his assistants ran the settlement along Moravian lines, and their help to the starving during the Great Famine is still evidenced by a giant cauldron.

A fluent Irish speaker (and textbook writer), Nangle gradually developed the Mission to such an extent that, by 1851, it had become the biggest landowner on Achill Island, owning three fifths of the land. In the face of much opposition from the Roman Catholic Hierarchy, who accused him of "souperism", he extended his work around the island (including Mweelin, where some forlorn ruins remain) and beyond.

Archbishop McHale of Tuam descended on the island with 13 priests and a band bearing banners reading "Down With the Schismatics!" Their instructions to the faithful regarding apostates were to "scald them, hunt them, shout after them, persecute them to death and pull their houses down over their heads". Sectarian bitterness grew, and at one stage Nagle had to be escorted by armed guards.

For a time, like missionaries everywhere, Nagle did some good, helping to alleviate the worst effects of desperate poverty, but most of his converts (disparagingly known as "jumpers") sooner or later returned to the arms of Holy Mother Church, and his last days were spent fighting the Land League. By the time he died in 1883 and Gladstone's Land Act for Fair Rents was passed, the Mission had collapsed.

St. Thomas's church (CoI) in Dugort is Edward Nangle's main legacy, still maintained by the island's few remaining Protestants. (Photo by Rev Patrick Comerford)
Gray's Guest House, occupying several of the old Colony buildings, was run from 1970 until recently by Mrs Vi MacDowell (née Gray) (1910 – 2009),  who was very involved in the cultural and artistic life of the island. It received rave reviews, particularly for its sociable common room and traditional Country House cooking.
The Strand Hotel, run by the Scott family for over 30 years, is also generally well reviewed, particularly for the friendliness of its staff.
The Silver Strand, Pollowaddy Strand and Barnynagappul Strand are the best beaches in the vicinity.
Valley

Valley, near Dugort, centres on Valley Lake, well stocked with brown trout.

The Valley House, a mid-C19th hunting lodge built by the Earl of Cavan, was the scene of a notorious crime.

On 5 October 1894 the then owner, an Englishwoman named Agnes MacDonnell, wife of barrister John Randal MacDonnell, dismissed her land agent, a local man called James Lynchehaun, and told him to leave her estate. That night he set the house on fire and attacked his ex-employer savagely, biting off her nose and destroying part of her face.

Lynchehaun escaped custody twice, helped by islanders and mainland relatives while on the run. After three months he managed to get to the USA, where he defeated legal proceedings to have him extradited to the UK by claiming that the arson and assault had been politically motivated.

Despite her terrible injuries, Agnes MacDonnell lived for another 29 years, wearing a metal plate and a veil to cover her disfigurement. Lynchehaun is said to have returned to Achill on two occasions, once in disguise as an American tourist, and eventually died in Scotland in 1937.

JM Synge used elements of this story in his best known play, The Playboy of the Western World, and in 1998 Cathal Black filmed an Irish / German coproduction based on the incident called Love and Rage, starring Greta Scacchi and Daniel Craig.

The restored edifice is now run as the Valley House Holiday Hostel & Bar, highly regarded by hostellers and the winner of several awards and commendations. It even has a pitch & putt course!
Askill claims to be the unsung capital of Achill Island, and is the place to cross the Bull's Mouth north of Achill Sound to Inishbiggle.
Bunnacurry / Bun án Churraigh is the location of a former Franciscan Monastery, founded in 1852 by the Roman Catholic Archbishop of Tuam, Dr. John McHale, in response to the perceived threat posed by the Rev. Edward Nagle's evangelist Colony. The monks stayed for many years, teaching the islanders better farming practices, offering accommodation to travellers, and inviting the Sisters of Mercy to set up the local school. In 1971 the monastery was sold to become an agricultural co-op with over 700 members, which went on to win a National Award as a model farm, but collapsed due to mismanagement in the 1980s. Apparently the premises have recently been purchased with a view to opening a Heritage Centre.
Monastery View B&B is run by Noel and Anne Gallagher.
Next: Achill's Islands